Not all projects should be made or released just because they go through film labs, says Bero Beyer.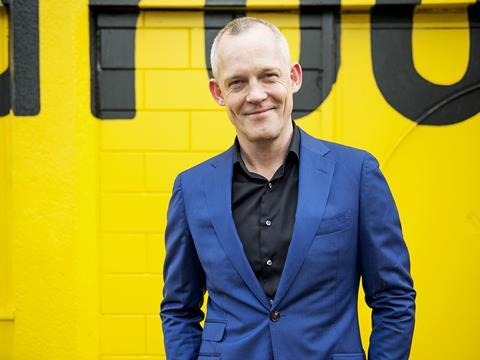 The new artistic director of International Film Festival Rotterdam (IFFR), Bero Beyer, has questioned the role of talent schemes across the industry, saying there is a need to curate "gems" among a glut of "mediocre" features.
Speaking on the second day of CineMart, IFFR's long-established co-production market, Beyer said: "It seems as if the R&D department of the film industry has moved to funds and festivals, in particular to specialised talent development programs that have grown into alternate financing models for feature films."
Beyer, previously an independent producer on films such as Paradise Now and Atlantic., said having the weight of a major festival behind a project provided an advantage to features from young filmmakers and was not typical of the indie film process.
"Several schemes have been initiated to create a space for artistic freedom," he said. "They do so mostly in a controlled environment with experienced mentors, consultants, advisors at every stage. But to be launched through a mayor festival like Venice or Cannes, or indeed a festival like Rotterdam, provides quite an advantage in comparison to a fully indie film."
IFFR itself selects independent features and screens them, backed by the Hubert Bals Fund, and projects are invited to CineMart.
"We are by no means alone in this," added Beyer. "There are many organisations and festivals in the world, many coproduction markets and talent schemes, so let's also be critical about ourselves, all of us."
Not all should be made
Beyer stressed that not all projects should be made simply because they have been through all the markets and programmes.
"Some projects should be set aside even if a substantial amount of development money has gone into them," Beyer asserted. "Some films should not be theatrically released just because they're there.
"It's a tough decision given that it's difficult making a film, even more difficult to make a good film and a miracle to make a really good film that's seen by many people. So we have a role to play in being honest with what we're doing."
Beyer added a note of caution as to how talent is brought to market and stated: "We should be very careful with the expectations we create and we should be extra careful in the follow-up process when our film talents are on their own.
"The fact that there is so much attention for debut films and emerging filmmakers at funds an festivals may cloud the fact that not many of these filmmakers even get to make a second feature - let alone a good one. And only a few go on to direct a body of work."
Mediocre films
Beyer highlighted the ease at which anyone can make a film today, resulting in a glut of average movies.
"Anyone who can afford a smartphone and a laptop can shoot, edit and upload their film," he said. "So selecting, curating and scouting in this oversupply of mostly mediocre film-ish fare becomes an increasingly difficult challenge. There are gems scattered everywhere."
Beyer added: "The role of funds and festivals to curate and find those that you go the extra mile for has become ever-more important. There is a role here for all of us, producers, funds, festivals, distributors and sales agents."
Distribution problem
In a panel discussion about the future of microbudget schemes, moderated by Screen, Jane Williams of the Biennale College said: "The biggest issue at the moment is distribution. It's about reaching an audience.
"At the moment, so much focus in on development and making films but actually the biggest issue is enabling the films to get out there and be seen."
Helen Ahlsson, from the Swedish Film Institute, highlighted the Moving Sweden initiative, which gives mainly new filmmakers a chance to explore new formats with films ranging from 30 to 60 minutes.
In partnership with broadcaster SVT, which provides a TV window, films that have emerged from the initiative include Baby, Senses, Guerilla and Kung Fury, of which the latter has generated more than 22 million hits on YouTube and was selected for Directors' Fortnight at Cannes last year.
However, Dutch producer Frans van Gestel of Topkapi Films added: "We have a problem with distribution because there are too many films. We should be developing fewer projects and giving them more money and time to develop."
Topkapi is the production company behind Felix van Groeningen's Sundance title Belgica, Thomas Vinterberg's Berlin Competition entry The Commune and Paloma Aguilera Valdebenito's Out Of Love, which screens at IFFR this week.
Also on the panel was Dorien van de Pas of the Netherlands Film Fund who said: "We need to get rid of the word talent from these schemes. It is meaningless. You need a vision first before you get help from the labs."
The panel also included filmmaker Babak Jalali, whose first feature Frontier Blues was developed through Cannes Cinéfondation in 2006 and whose latest film, Radio Dreams, world premieres tonight (Feb 1) in competition at IFFR.