The Japanese director talks about her second feature, which receives its world premiere in competition at International Film Festival Rotterdam (IFFR).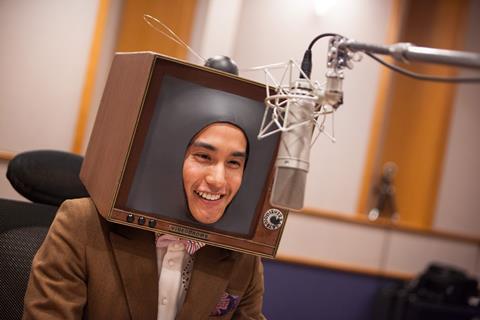 Japanese director Lisa Takeba returns to Rotterdam with the world premiere of her second feature film, Haruko's Paranormal Laboratory, in the Tiger Awards competition.
Isolated from her family and society, the heroine Haruko talks so much to her old analogue television that it comes to life. She thinks she must have paranormal abilities and tries to keep the TV man at home, but he goes out to find a job and a series of outlandish complications ensue for the couple.
"My aunt used to talk to the TV a lot while watching it. I thought that she talked to it so much that the TV might get feelings," says the director, explaining that she was inspired by that and the recent rapid development of artificial intelligence.
"It is said that robot society will be mature by 2045. A robot that knows a human's feelings. That is to say, a "thing" with a heart. An ancient Japanese tradition also tells of the same. In the near future, we might be considering the feelings of things more, and treasure them more," she says.
Casting Aoi Nakamura as the TV Man and Moeka Nozaki as Haruko, Takeba says she was looking for a certain quality: "Because it was a daring story, I wanted to have lead actors who are pure and simple of heart. The actor and actress are actually pure and innocent, and just perfect."
Takeba previously directed shorts such as satirical film The Wandering Alien Detective Robin (2012), which screened in Rotterdam, as did her quirky feature directorial debut The Pinkie (2014).
The latter won the Grand Prix at the Yubari Fantastic Film Festival, which partially funded the budget of her second feature.
She also directs TV commercials and music videos, and writes scripts for Nintendo DS games.
On Haruko's Paranormal Laboratory, Takeba says, "The costume designer was really amazing. Mikio Sakabe, the Japanese leading fashion designer who holds fashion shows in Paris, made costumes for a movie for her first time. The characters in this film were not just created by my script, but also shaped by her costumes."
The director is currently working on her first short animation, and is fielding offers to direct music videos, produce animations and write scripts.
"This year, I have chances to express myself through other ways besides making movies. I'll be so happy if I can work again on these other chances with the cast and staff I met in movies," she says.