Dir/scr: Chen Kaige. China. 2100. 127mins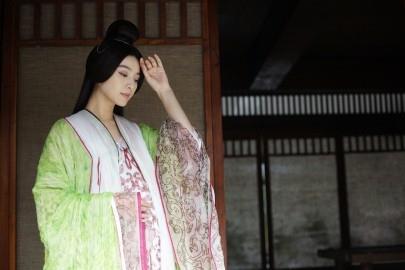 Chinese cinema's elder statesman Chen Kaige casts an eye back in time to his country's Yuan period - prior to the Warring States era so beloved of mainland directors - for a traditional revenge drama distinguished by strong performances from leads Ge You and Wang Xue Qi.
Sacrifice still manages to maintain its pace as it skips through the years to a dramatic final showdown.
Tightly-plotted despite its 127-minute running time, this tale of infanticide and revenge is low on the action demanded by followers of this genre, but Sacrifice could win over regional audiences thanks to its compelling leads and engrossing script.
The first half-hour alone, involving a masterfully-staged assassination plot, demonstrates a return to form for Chen, although theatrical action outside Asia seems a long shot.
Played convincingly as an earthbound melodrama, it's a little bit jarring when, during its occasional fight sequences, Sacrifice suddenly takes to the air for some brief but enthusiastic wire work, or a newborn baby flies in the sky after a protagonist slips on some fish. Once it settles down, however, this is the kind of enjoyable baby-swap fare that folklore tales are made of (Sacrifice is based on a Chinese play).
The action centres around China's foremost actor Ge You (winner of the Cannes acting prize for To Live), playing humble doctor Cheng Ying. Attending the eagerly-anticipated birth of a child and heir at the royal palace, he himself has just welcomed a son into the world, despite his advanced years. Fate swings into action, however, when army general Tu'an Gu (the marvelously sinister Wang) decides he has had enough of being sidelined by the ruling Zhao clan.
The answer is naturally to wipe the entire family out, with some fancy assassination footwork followed neatly by a crisply-cut montage of murder and mayhem. Cheng finds himself delivering the last of the Zhao clan as Tu'an's soldiers encircle the royal compound and ends up holding two newborn babies as Tu'an threatens a country-wide Herod style massacre of infants.
While the title gives a strong indication of how this plays out for the good doctor, Sacrifice still manages to maintain its pace as it skips through the years to a dramatic final showdown, losing its grip only during the final scenes as the film itself is sacrificed to its melodrama.
Chen, working with cameraman Yang Shu and production designer Liu Qing, avoids an over-ripe period feel here, refusing to allow his elaborate interiors to take centre stage and opting for a washed-out colour palette. Support is strong across the board, from Fan Bing Bing as the regal princess to handsomely scarred Han Jue as the general's former supporter.
Production companies: TIK Films, Stellar Mega Film Company, 21 Century Shengkai Film, Shanghai Film Group Co
International sales: Arclight/Easternlight, www.arclightfilms.com
Producers Chen Hong, Qin Hong
Cinematography: Yang Shu
Production designer: Liu Qing
Editor: Derek Hui
Main cast: Ge You, Wang Xue Qi, Fan Bing Bing, Hung Xiao-ming, Hai Qing, Zhang Feng Yi, Vincent Zhao, William Wang, Zhao Wen Hao