Dir/scr: Boaz Yakin. US. 2011. 95mins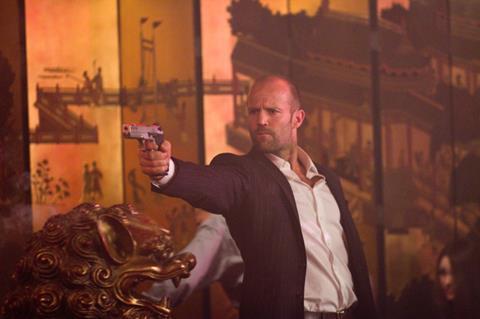 Like too many of Jason Statham's recent star vehicles, Safe is an adequate solo act in need of better accompaniment. The dashing, muscular action hero is his usual fearsome, suave self in this Manhattan-set action-thriller, but his magnetic presence can't distract from what is otherwise a threadbare, down-and-dirty genre entry. "Safe" turns out to be an alarmingly accurate description of this formulaic offering.
Those familiar with Statham's oeuvre will easily recognise the character he plays.
Opening April 27, Safe will probably be a niche performer like a lot of Statham's previous films, catering to hardcore action fans but barely creating a ripple elsewhere. A limited theatrical window seems further assured by the fact that The Avengers will soon be swooping in, levelling any competition courting the same audience demographic. Consequently, expect Safe to quickly head off to DVD, which will allow Statham completists to add it to their library.
Written and directed by Boaz Yakin (who helmed Remember The Titans), Safe introduces us to Luke Wright (Statham) a down-on-his-luck former New York cop still reeling from the death of his pregnant wife at the hands of the Russian mob. Suicidal and living in a shelter, he meets up with a 12-year-old Chinese girl named Mei (Catherine Chan) who is being chased by Chinese and Russian underworld figures because she has memorized a top secret set of numbers. Only Luke can help keep the girl alive as he tries to determine the significance of the numbers.
Those familiar with Statham's oeuvre will easily recognise the character he plays. Similar to his turns in The Mechanic, Death Race or the Transporter films, his Luke is a tough guy who cracks skulls, fires off sarcastic quips, and has a good heart. There's always a sense that Statham knows he's making silly, violent escapist films, revealing a bit of a wink beneath the self-seriousness. But while that continues to make him an inviting onscreen presence – and, at age 44, still quite a nimble, intimidating action hero – the sad fact is that Safe is only rarely a visceral viewing experience. Statham's charm and physical prowess impress as always, but his heroics are starting to feel decidedly conventional.
Yakin and cinematographer Stefan Czapsky give New York a nicely dynamic sheen, contrasting the seediness of the mobsters' lairs with the more upscale locations where gonzo shootouts take place. But Yakin isn't a particularly thrilling action director, largely relying on Statham's ability to acrobatically kill baddies who are bearing down on him in all directions. Rated R for its amount of bloodshed and mayhem, Safe wants to sport an edgy, almost amoral vibe, but the stereotypical villains and convoluted twists keep the film terminally trite.
It's a well-worn action device to pair the hero with a child in need of protection – The Professional and Man on Fire spring immediately to mind – but Safe is decidedly unimaginative in the ways it tries to create drama from the unlikely team of Statham and Chan. While Statham projects a likeable warmness, Chan is a dull sparring partner, making her seem like little more than an emotional hook to keep us invested in the rising body count.
But to be fair, that dreariness extends to much of Safe's cast, with Robert John Burke phoning in his performance as a hard-as-nails police captain and Chris Sarandon not faring much better as the city's potentially corrupt mayor. Audiences will go to Safe for Statham, but despite how resourceful his character is, they may wonder why he's not inventive enough to kick, shoot and punch his way into some sharper material.
Production companies: IM Global, Automatik, Lawrence Bender Productions, Trigger Street Productions, 87Eleven, Inc.
Domestic distribution: Lionsgate, www.lionsgate.com
Producers: Lawrence Bender, Dana Brunetti
Executive producers: Stuart Ford, Brian Kavanaugh-Jones, Kevin Spacey, Deepak Nayar
Cinematography: Stefan Czapsky
Production design: Joseph Nemec III
Editor: Frederic Thoraval
Music: Mark Mothersbaugh
Website: www.safethefilm.com
Main cast: Jason Statham, Robert John Burke, Chris Sarandon, Anson Mount, James Hong, Reggie Lee, Sandor Tecsy, Joseph Sikora, Danny Hoch, Matt O'Toole, Catherine Chan