Dir: George Ratlif. US. 2010. 95mins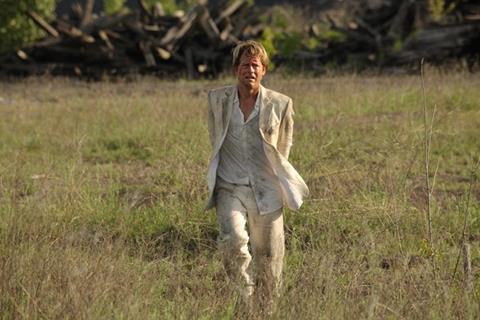 In this silly, mildly amusing satire about evangelical Christians, Greg Kinnear plays mild-mannered church-goer and reformed Grateful Dead follower Carl Vanderveer, who finds himself in over his head when his megachurch preacher Dan Day (Pierce Brosnan) accidently puts an atheist college professor in a coma. With Day about to break ground on his new planned Christian community, Vanderveer becomes the perfect fall guy for the crime. What ensues is a wacky "wrong man" comedy with Carl trying to prove his innocence.
Salvation Boulevard is an occasionally funny ride, lampooning the inner-workings of a megachurch.
But his wife (Jennifer Connelly) won't believe him, his father-in-law (Ciaran Hinds) thinks he's having acid flashbacks, and his good friend, a megachurch cameraman (Jim Gaffigan), decides he must kill him off in the name of the Lord and Pastor Day.
Meanwhile, Day believes he's receiving calls from Satan on his cellphone—a gag that eventually pays off with mixed results. For one, it's difficult to buy that Day is so delusional he believes the Devil has come to visit him in the flesh. Brosnan could be miscast; usually, he's terrific at playing Machiavellian, but here, he's simply foolish.
With no one to turn to, Carl seeks help from a security guard and Deadhead, played by Marisa Tomei, who stands out among the film's many hammy performances, fully committing to her small role with comic stoner gusto.
Cuban actor Yul Vazquez also chews up the scenery as a Mexican gangster, who plans to blackmail Day with a DVD of his misdeed in order to get the building contract for the new Christian development. He offers one of the film's biggest laugh lines, "When you follow a preacher, eventually, you'll find something amazing."
Quite clearly a big goof for all involved, Salvation Boulevard is an occasionally funny ride, lampooning the inner-workings of a megachurch—with its pulpit and TV studio, proselytising and merchandising—but just as many of the jokes don't rise to the occasion.
The film has the big-budget production values of a Hollywood comedy, and if given a large studio's marketing machine, the movie could do adequate theatrical business, considering its high-caliber cast and advertising-ready comic bits. But it feels more suited to the small screen. Ultimately, Salvation Boulevard doesn't have quite enough spirit.
Production companies: Mandalay Vision, 10th Hole Productions, Mandalay Independent Pictures, Dro Entertainment, Cineric
International sales: Myriad Pictures, www.myriadpictures.com
Producers: Cathy Schulman, Celine Rattray, Peter Fruchtman
Executive producers: Michael Bassick, Gary Hamilton, Nick Simunek, Victor Syrmis
Screenplay: Doug Max Stone, George Ratliff, based on the novel by Larry Beinhart
Cinematography: Tim Orr
Production designer: Clark Hunter
Editor: Michael LaHaie
Music: George S. Clinton
Main cast: Pierce Brosnan, Jennifer Connelly, Ed Harris, Greg Kinnear, Marisa Tomei