Europa Distribution's panel looked at issues around online film releases, from piracy to branding to data analysis.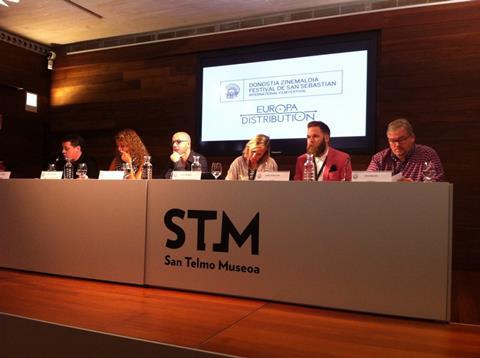 Everyone in the film business agrees with Chris Anderson of anti-piracy solutions provider Muso that "piracy is a bad thing." But his other sentiment might raise a few eyebrows.
"I think the film industry should look at piracy as an opportunity," the UK-based executive said at a Europa Distribution's panel yesterday at the San Sebastian International Film Festival.
"There is an enormous audience watching films illegally who could be forced back to watching legally."
Lucía Recalde from Creative Europe said that "the fight against piracy is a big priority" for the European Commission. "Piracy is a very bad thing, but in addition we need to look at how to make European works more widely accessible, that's the other side of the coin. How do we promote the access of European works through legitimate measures?"
She continued, "We need to discuss what the role the EC can play in this process." She said she would like the Commission to have a role in "joining up common strategies" and "incentivizing new experiments to work together."
Israel-based Kobi Shely of Distrify Media, added, that "the piracy genie is not just out of the bottle, it's smashing the bottle to pieces…There is a generation who expects to get music and movies for free."
Shely banged the drum for more data on audience habits and online film viewership. "The data is crucial to understand the audience," he said. "We are understanding more and more the data we are collecting about what is working, who is where.
That enables filmmakers and sales agents to understand what to focus on. This part of the conversation needs to be addressed and expanded."
Spain's Estela Artacho of umbrella group FEDICINE agreed that more data would be valuable – whereas theatrical box-office revenues are reported weekly, "we miss that same data on digital formats…That should be one priority from the [European] Commission to get more information from the digital platforms. If we don't know our audience we cannot promote to them."
Moderator Michael Gubbins of UK consultancy Sampo Media (and former editor of Screen International), added, "Knowledge is a huge missing link still…It will be extremely helpful if we can aggregate all the way up, particularly given that VOD sites are so reluctant to give out details."
The value of branding
Distrify's Shely noted that "Branding is a key issue, it's not just Nike and Amazon. It means brand awareness."
He pointed to one success story of Czech distributor Aerofilms. Audiences will seek out the Aero brand, not just film by film, knowing that "Aero must mean a good film, it doesn't matter if it's arthouse or documentary," he said. "They can be sure that the curating brand is offering them the best option to watch a good film."
"This is something that needs to be addressed by other companies," he continued. "It's not enough to just have films they need to create a brand people know they can trust.
"If people don't know the brand or the name or don't trust it, they go to torrents and download from there. This curation and marketing of a brand especially for arthouse films is very important."
Spain's Artacho agreed that "different platforms are themselves brands too" but she advocated that "on the other hand every movie is a brand itself, that's what we do as distributors."
Gubbins added that "brands are multifaceted. You have many forms of value in the brands that you create. Those forms of value are consumed in different ways and the emotional connection is different at different points of release."
New tools
Training is also a piece of the puzzle, with more digital age expertise needed. "There is a need for training brand managers, community managers. In the digital age this is new business," Recalde said.
Muso's Anderson said the industry overall needs to be more savvy about online tools. "We talked a lot about people liking Facebook pages and watching trailers online. The disconnect then lies in where that does audience then go? Do they watch your film where you want them to watch them?"
The film industry needs to move beyond thinking of connecting to the audience just on social media. "One thing lacking is promotion and marketing," said Distrify's Shely. "Yes, you need a marketing budget [for an online release]."
He added that other industries are being transformed by new competitors, like taxi services with Uber or hotels with Airbnb. But for film, he warned, "Piracy is the competitive industry here. The difference is the biggest competitive industry is illegal."
So what can the industry do? He suggested, "We need to make the film industry better. We can also make piracy bad."
One audience member hit the nail on the head when he noted that things like popcorn sales had propped up the theatrical release economics for film, and wondered 'what the popcorn will be' for online distributors?
Shely thinks that the shift has to be independent filmmakers thinking about adapting their content formats and channels – as amateur YouTubers have 40m subscribers and indie film viewing (at least legally) is declining.
"You have to ask yourself how relevant long-form movies and films are to the new age? I don't see the 'popcorn' from transactional video on demand (TVOD) or subscription video on demand (SVOD) in trying to get a film to generate revenues. You need to think about how to adapt your artform." (He did later add that cinematic films were also welcome in the new world – "there will be an audience for all type of films.")
Anderson agreed that digital platforms don't have the same restrictions as old media. "On Netflix, one episode can be 60 minutes, the next one can be 70 minutes. That's a huge opportunity."