Alejandro Amenabar discusses delayed US release and a penchant for international stories after opener garners mixed response.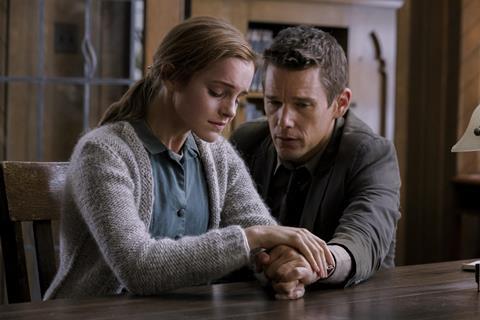 The 63rd San Sebastian Film Festival (Sept 18-26) opened last night with the world premiere of Alejandro Amenabar's Regression.
It is the first time Amenabar has played San Sebastian since 1996's Thesis, the feature directing debut that put him on the map both at home and abroad.
The film, which met with mixed reviews, tells the story of a teenager (Emma Watson) who accuses her father of sexually abusing her in a satanic ritual. Ethan Hawke plays the tough cop who becomes obsessed with solving the mystery.
During the film's press conference, Amenábar described his motivation for making the thriller: "I really want to make the kind of films I like to watch as a film-goer. I love horror films and I was inspired by the austere and harsh tones of films of the 1970s."
Regarding the film's small town USA setting and a general absence of Spanish subject matter in his directing work, he said: "I just look for good stories no matter where they are set. It's true that maybe only The Sea Inside is related to Spanish reality but if tomorrow I find a good story in Russia I would shoot there without hesitating."
The Regression team discussed the film's US release after The Weinstein Company pushed back an announced August 28 launch.
"There is nothing strange about the decision," said producer Fernando Bovaira at the press conference.
"They just decided that it was better to open the film first in Europe."
Regression will open on Oct 1 in Germany, Oct 2 in Spain, Oct 9 in the UK, Oct 28 in France and Nov 12 in Italy.
"We are waiting for a new US release date," said Amenabar. "We have a long relationship with the Weinsteins and they know how to sell films. They usually have very good ideas."
Producers on the film are Amenabar, his longtime collaborator Bovaira of Mod Productions, and Christina Piovesan.
Executive producers include Axel Huschevatvatzky of Telefonica Studios and Paolo Vasile, head of Mediaset and TeleCinco Cinema. The film was co-produced by Canadian First Generation Films and backed by TeleFilm Canada. Film Nation are handling international sales.
This year's festival is heavy on high-profile Spanish film-makers. Following Amenabar's opening, Alex de la Iglesia (My Great Night) and Agustí Villaronga (King of Havana) will all introduce their new films in the coming days while Cesc Gay's (A Pistol in Each Hand) Truman has already garnered some positive notices.