Festival director Jose Luis Rebordinos has put together a 'very solid' selection at San Sebastian (Sept 18-26) against stiff competition.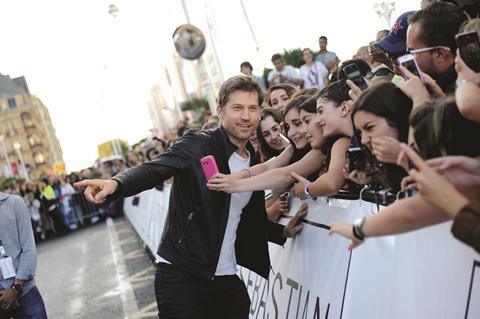 The world premiere of Alejandro Amenabar's Regression will kick off the 63rd edition of San Sebastian Film Festival (September 18-26).
"It was a long battle to get the film and we are very proud to have it," festival director Jose Luis Rebordinos tells Screen about his determination to snag Amenabar's thriller against stiff competition from other autumn festivals.
"It's a genre film that seems to be one thing but ends up being something else altogether. Ethan Hawke and Emma Watson are both astonishing."
Regression, a Spain-Canada co-production that will play out of competition, will be the first of several Spanish titles to screen at this year's festival, including a number of co-productions with South American countries and film-makers. Rebordinos is looking forward to unveiling his selections. "We are very excited about the Spanish films," he says. "Last year, we had big successes with Marshland, Loreak and Magical Girl [winner of the Golden Shell]. This year could be even better."
Writer-director Agusti Villaronga hit paydirt at the 2010 festival with Black Bread, which saw Nora Navas win the Silver Shell for best actress before going on to sweep the Goyas with nine awards. Villaronga returns with The King Of Havana, the story of an impoverished youngster caught up in a love triangle in 1990s Cuba. Expectations are high for the film, which Rebordinos describes as "beautiful and devastating".
Also anticipated in official selection is Cesc Gay's Truman, for which the Catalan film-maker reunited Javier Camara and Ricardo Darin, co-stars of his 2012 feature A Gun In Each Hand. The film is a comedy-drama about two friends, one dying of cancer and trying to find a new home for his dog.
Screening out of competition is cult director Alex de la Iglesia's My Big Night, an anarchic comedy about a singer (played by Raphael, a huge star in Spain) who is targeted to be killed during a New Year's Eve TV spectacular.
Competing hard
San Sebastian has always been an important gateway to Europe for South American productions. This year, the continent's 'European invasion' will be felt more keenly than ever. Two Spanish co-productions helmed by South American directors stand out as potential highlights: Uruguayan writer-director Federico Veiroj's The Apostate is the tale of a young man trying to leave behind his strict religious upbringing, while Argentinian film-maker Pablo Aguero's Eva Doesn't Sleep follows the surreal destiny of Evita Peron's embalmed corpse. Gael Garcia Bernal and Denis Lavant star.
The three-day Co-Production Forum between Latin America and Europe, which Rebordinos dubs a "great success", has helped grow industry attendance significantly since launching three years ago. This year, more than 1,200 industry guests are expected to attend the festival's various industry activities. "I never expected such a great response," admits the director. "We can't grow any more."
Fifteen projects, the majority as-yet unseen at international co-production gatherings, have been selected for the Forum (September 21-23). The EGEDA award for best project, which comes with an $11,000 (€10,000) prize, will be announced at the Forum's closing gala.
Elsewhere, the influential Films In Progress section will celebrate its 13th edition, while Horizontes Latinos will screen the best films from South America. Rebordinos is also keen to stress the growing importance of San Sebastian's New Directors strand, focused on first or second features. "Last year's winner had a wonderful performance in international festivals," he says of Kristina Grozeva and Petar Valchanov's Bulgarian film The Lesson, which went on to win awards at Gothenburg and Tokyo, among others. Film-makers competing for this year's $55,500 (€50,000) prize include the UK's Scott Graham (Iona), Israel's Michal Vinik (Barash) and Austria's Stephan Richter (One Of Us).
Among the international titles competing for the Golden Shell is a San Sebastian first — an anime feature, Japanese film-maker Mamoru Hosoda's eagerly anticipated The Boy And The Beast. The UK is well represented by Ben Wheatley's JG Ballard adaptation High-Rise, Terence Davies' Sunset Song and Rufus Norris's London Road (the latter will close the festival, out of competition). Icelandic director Runar Runarsson's Sparrows is also in competition, while Rebordinos tips Georgian film-maker Levan Tutberidze's Moira as one to watch.
"The competition with Venice for titles is huge," he says, "and we have achieved a very solid selection. Some films will play in Toronto but we're proud to be their entrance door to Europe." ns
CO-PRODUCTION FORUM
2015 SELECTIONS
Agontime (Bra)
Dir. Larissa Figueiredo
Bajo Este Sol Tremendo (Arg-Uru)
Dir. Israel Adrian Caetano
Blanco En Blanco (Sp-Chile)
Dir. Theo Court
Clara Sola (Sw-Col-Den)
Dir. Nathalie Alvarez
Contactado (Ven-Peru-Col)
Dir. Marite Ugas
El Auge Del Humano (Arg-Por)
Dir. Eduardo Williams
El Motoarrebatador (Arg)
Dir. Agustin Toscano
Kiken (Uru)
Dir. Carlos Ameglio
La Omision (Arg-Ger)
Dir. Sebastian Schjaer
Lanza Internacional (Chile-Ger)
Dir. Victor Cubillos
Los Anos Rotos (Mex)
Dir. Gerardo Tort
Memorias Del Calabozo (Sp-Uru)
Dir. Alvaro Brechner
Oliverio Y La Piscina (Mex)
Dir. Arcadi Palerm
Ronnie Monroy Ama A Todas (Peru)
Dir. Josue Mendez
Tantas Almas(Col-Bel)
Dir. Nicolas Rincon