Stars of Palme d'Or winner discussed the film at the Sarajevo Film Festival.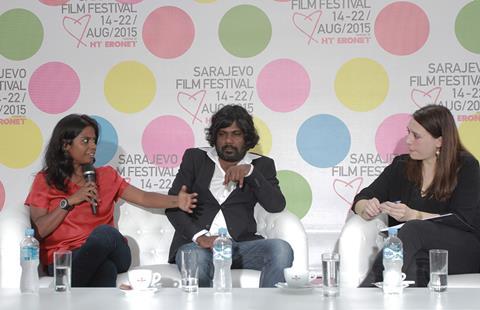 Jacaques Audiard's Dheepan was the toast of this year's Cannes Film Festival, winning the prestigious Palme d'Or.
But the stars of the film – about a Sri Lankan Tamil warrior who flees to France with a fake wife and daughter and ends up working as a caretaker outside Paris – have revealed that life hasn't changed following the high-profile win.
"People were telling me that the phone wouldn't stop ringing but nobody has been calling," Indian actress Kalieaswari Srinivasan told an audience at the Sarajevo Film Festival.
"I was warned that Cannes would be chaos. But we are used to these kinds of crowds in India."
Speaking the morning after the film was shown at Sarajevo's Open Air cinema, the theatre actress who made her film debut in Dheepan said it was only the second time she had seen the feature projected.
"It was overwhelming as I don't like to see myself on the big screen," she said. "But I was seeing someone else – the character. It was a beautiful experience."
Sri Lankan writer and actor Jesuthasan Antonythasan, who had only previously appeared in 2011's Sengadal before taking on the title role in Dheepan, was softly spoken during the conversation.
He spoke about the years he had spent in Sri Lanka during the civil war, assimilation into France and other autobiographical details that he shares with Dheepan.
Asked about whether he knew of Audiard prior to the audition, the actor said: "I knew of him but also of his father [director Michel Audiard].
"I was originally chosen for a smaller role and my casting as Dheepan was a last minute change."
Antonythasan added that he was happy with the attention the film has brought to the plight of Sri Lanka. "There was huge media demand after the screening at Cannes and I got to talk about Sri Lankan problems, which I was happy to bring attention to."
Asked if he thought the film would ever screen in Sri Lanka, he said: "The government would never allow it."
As for whether the film will screen in Srinivasan's home country, the actress said: "I hope it will be screened in India but I imagine politicians will oppose it. If it does, it will be something else."