The potential European digital single market is a major challenge facing European productions. Geoffrey Macnab previews a Sarajevo co-production panel that will examine the controversial proposals.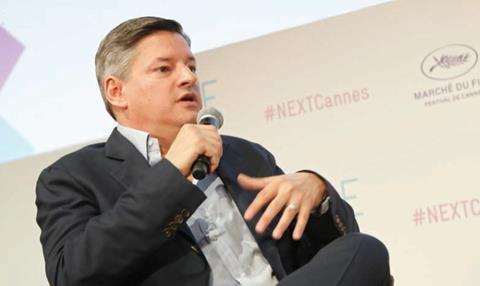 These are turbulent times for European production. In May, the tensions in the sector became very apparent during Cannes. First, there was the furious debate over proposals for a 'digital single market'.
Europe's main producing countries were not slow to express their extreme alarm about ideas that could undermine their ability to release films on a territory-by-territory basis and potentially shatter traditional distribution models (and, likewise, current financing models).
Then, during a talk by Ted Sarandos, chief content officer at US-headquartered video-on-demand internet giant Netflix, one observer, André Lange, then working for the European Audiovisual Observatory, made a startling intervention.
He told Sarandos: "In five, 10, 15 years, you will destroy the current ecosystem of film production in Europe," pointing out that Netflix does not pay taxes or fees towards local production in the countries in which it operates.
Lange's remarks in Cannes infuriated heavyweight US producer/ distributor Harvey Weinstein, who tried to swat him down by suggesting European production should not have to rely on public subsidy.
"I hope the government spends its money on hospitals and children and that the marketplace is so good that films can be sold to the marketplace and don't need government subsidies," Weinstein said.
Echoes of the debates that raged in Cannes are bound to be heard at Sarajevo's industry panel on co-productions, entitled 'Public funding for co-productions: co-operating better across the borders in the borderless digital world' (Aug 21, 11am).
Lange, an independent expert now retired from the European Audiovisual Observatory, will speak at the panel. A few months on from Cannes, he acknowledges his statement to the Netflix boss was "of course a bit provocative".
"It is easy for Netflix to argue they are already investing in a French series," Lange notes, referring to the sprawling drama series Marseille, but points out no data has been disclosed on the amount Netflix invested.
Lange says that in at least 10 EU countries, exhibitors, broadcasters, distributors of audiovisual services (pay-TV platforms) and/or VoD services are obliged to invest in production or contribute to national film funds. "This model is pivotal in countries like France, Germany, Poland, Spain and in various smaller countries such as Belgium, Portugal and Croatia. The major US-controlled groups such as Apple, Sony, Microsoft, Netflix and HBO have chosen countries where these kinds of obligations do not exist [Luxembourg, the Netherlands, UK or the Czech Republic] to establish their VoD services."
Weinstein's suggestion that European governments should invest in hospitals rather than in film still bewilders Lange. "The answer by Harvey Weinstein that European governments should invest in hospitals rather than in film was amazing," he observes. "He did not get the point. The regulations I was quoting are for state intervention to organise the financial flow from various branches to support production [or other activities supported by the funds], but this is not state money."
Influential panel
Alongside Lange, Sarajevo has attracted some key figures in European funding to speak on the panel, among them Robert Balinski of the Polish Film Institute, Hrvoje Hribar of the Croatian Audiovisual Center and Marten Rabarts of Netherlands' EYE Film Institute.
"This is one of the burning questions on a European level, but it's one that some people in this region are very unaware of," says Sarajevo's head of industry Jovan Marjanovic - who will act as panel moderator - of the digital single market.
"It's very important for us to discuss it in this part of the continent. This is something that affects us all without us knowing it." In Lange's opinion, in its contortions over the digital single market, the European Commission is in danger of repeating a mistake it made 30 years ago.
"The initial proposal of the commission to review the territoriality of copyright reminded me of the 1984 Green Paper, 'Television Without Frontiers'," he says.
"At that time, the commission was arguing that any TV services established in the EU should be received in any EU territory and that copyright legislation should be reviewed to allow this. This was of course an absurd proposal that was rejected by all branches of the industry.
"It is amazing that 30 years later, the commission makes the same mistake, creating fierce opposition from the overall European industry and even the Motion Picture Association of America."
Marjanovic points out that eastern European countries do not have "big industries" like those in France, Germany or the UK that they need to protect from European Commission regulation.
"But we know that we depend on the bigger industries and on the system of connected points," he adds.
In other words, the upheaval that a digital single market might have on major film-producing countries would be felt in the Balkans too.
The idea behind the panel is not to preach to the converted, but to ensure everyone in the region understands what really might be at stake if digital single market proposals are pushed through.
The panel is intended to provide useful information, not just to theoretical debate. "The more practical issue is to see what instruments countries can use to boost their co-production possibilities," Marjanovic says.
Discussions will include lessons learned from various new co-production alliances between European partners, such as the trilateral treaty between Switzerland, Germany and Austria, and the recently signed co-production treaty between Germany and the Netherlands.
Panellists will also consider new possibilities under the European Convention on Cinematographic Co-production, which is expected to be tweaked and made more flexible so non-Europeans can participate.
New partnerships
Marjanovic points out the "old instruments" can still be used for co-production but there are now new ways in which European partners can work together. The panellists all represent countries that are active in co-production in the region.
"Netherlands has been a very active producer for some years in eastern and southeastern Europe taking advantage of the market platforms across the region but especially Sarajevo CineLink," says Rabarts. "At this moment, we have 10 co-productions in distribution, production or post-production including Cannes award winner, The Lobster."
Poland, meanwhile, is a partner country with Sarajevo Film Festival this year and the Balkan countries are keen to explore ways in which they can work with the Poles.
"To be honest, the whole region has not been co-operating with Poland too much," Marjanovic acknowledges.
The opportunities are there, though. Poland produces more than 40 films a year (as opposed to five features in Bosnia and Herzegovina in 2014) and is a potential powerhouse.
"Poland is a big country in Europe with a lot of public funding for film and with a lot of expertise and talent. They don't co-produce much. They have been self-sufficient in some ways," he adds.
Poland appears to be thriving. As Lange notes, production has shot up thanks to its effective film law that requires broadcasters, pay-TV and cable operators to support the activities of the Polish Film Institute; Polish films have significant national market share and are achieving international success - most notably Oscar winner Ida.
Co-productions represent about 20%-25% of all feature films. As Balinski notes, it is a "major part of our film landscape… We try to keep the number of minority co-productions constant, but it is not easy because of the lack of incentives in Poland."
If Poland can be persuaded to work more closely with other European partners (and become more active as a minority co-producer), the entire region can benefit.
With this in mind, Sarajevo has invited a Polish delegation to attend the festival, and to meet local producers with whom they might be able to work in future. These include Ida producer Ewa Puszczynska of Opus Film and distributor Michal Myslinski of Aurora Films.
Regional outlook
Across the eastern European region as a whole, national film industries have experienced varying fortunes. Romania, in Lange's opinion, is the country that has succeeded in creating "an international brand" for its films.
Meanwhile, the Czech Republic, Hungary and Croatia have enjoyed notable success in attracting foreign productions. "In the other countries, the situation of the film industry seems to be more insecure," Lange states.
"Interesting films are produced, but with very reduced European circulation. You have to attend festivals or be a member of the European Film Academy to have a chance to see them."
That is why Creative Europe is seeking to implement measures that boost production opportunities in smaller countries.
One intriguing proposal at the Council of Europe is to modify the European Convention on Cinematographic Co-Production.
As Lange points out, if the threshold of participation was reduced from 10% to 5%, it would be much easier for these smaller countries to become involved in co-production.