Radu Jude's Scarred Hearts among titles; In Focus strand also revealed.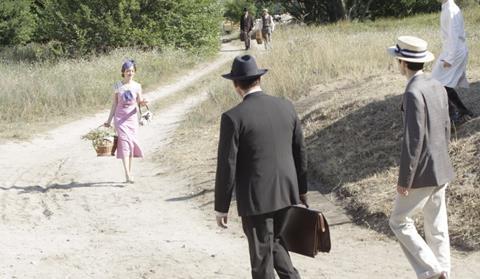 Sarajevo Film Festival (Aug 12-20) has unveiled its competition and in focus titles ahead of the launch of its 22nd edition next month.
The eight features in competition include two world premieres: Ivan Marinović's debut The Black Pin; and Lukas Valenta Rinner's A Decent Woman.
The Black Pin, from Montenegro director Marinovic, centres on a priest who finds himself at odds with the other inhabitants of his small, rural parish when he opposes a large property sale. Serbian Vladimir Vasiljević is co-producing.
Austrian filmmaker Rinner, whose Parabellum won the special jury prize at Jeonju and was up for Rotterdam's Tiger Award in 2015, returns with A Decent Woman, the story of a housemaid working in an exclusive gated community on the outskirts of Buenos Aires who embarks on a journey of sexual liberation at a nudist swingers club.
After winning Berlin's Silver Bear for best director with Aferim! in 2015, Romanian filmmaker Radu Jude returns with Scarred Hearts. Set in 1937, the film tells the story of a young man suffering from bone tuberculosis who discovers that his life in a sanatorium can be a place of new discoveries. It is set to world premiere in competition at Locarno.
Cemil Ağacıklıoğlu's The Field will receive its international premiere at Sarajevo, after debuting in competition at Istanbul in April. Ağacıklıoğlu's third feature centres on a man in debt who must return to his hometown to sell the family field, unearthing unresolved family issues in the process.
Fresh from Critics' Week at Cannes is Albüm, the debut of Turkey's Mehmet Can Mertoglu about an Antalya-based couple who fake a pregnancy to keep their future adoption a secret. At Cannes, the film won the France 4 Visionary Award.
Also from Cannes, where it played in Un Certain Regard, Dogs is the feature debut of Romania's Bogdan Mirica and tells the story of a young man from the big city whose plans to sell a patch of land inherited from his grandfather are complicated when he learns the old man was a local crime lord and his gang will not give it up without a fight.
Godless, Bulgarian director Ralitza Petrova's feature debut, tells the story of a nurse who takes care of senior citizens with dementia, while trafficking their ID cards on the black market. The film will world premiere in competition at Locarno.
Humidity, the debut feature of Serbia's Nikola Ljuca co-produced by Dutch outfit Lemming, is about a charismatic businessman whose life begins to unravel after his wife vanishes.
In Focus
Sarajevo's In Focus strand, comprising some of the best recent titles from the region, includes Danis Tanović's Berlinale award winner Death In Sarajevo.
The film, which won Berlin's jury prize, is an adaptation of French writer Bernard-Henri Lévy's play Hotel Europe, which suggests the European dream is in tatters. It is set on the eve of the 2014 centennial commemoration of the start of the First World War in Sarajevo, with a Frenchman sitting in his hotel room recalling his time in the city during the Bosnian War.
Cristian Mungiu's Graduation, for which the Romanian director shared the best director prize at Cannes with Olivier Assayas (Personal Shopper), is a family drama focusing on a small-town doctor and his psychology student daughter, who is assaulted just before an important exam.
Cristi Puiu, who put new Romanian cinema on the world map when The Death Of Mr Lazarescu won Un Certain Regard in 2005, returns with Sieranevada – a film about a neurologist facing a family showdown in Bucharest following the death of his father. It was also in competition for Cannes' Palme d'Or this year.
Emin Alper's sophomore feature Frenzy, which won the special jury prize at Venice last August, centres on two brothers struggling to survive local political violence in Turkey.
Another Venice 2015 title, Yorgos Zois' debut feature Interruption follows a hostage situation inside a theatre, as it turns into a collective performance in which art imitates survival.
Nightlife, which saw Slovenian director Damjan Kozole win best director at Karlovy Vary earlier this month, centres on a wealthy married couple whose lives radically change in an instant.
On The Other Side, the seventh feature by Croatian filmmaker Ogresta, follows a middle-aged nurse living in the Croatian capital of Zagreb. Her life is turned upside-down when her husband is released from prison, after serving time for crimes committed during the Balkans conflict of the early 1990s. The film debuted in the Panorama strand of Berlin in February.
Competition - Feature Film 2016
WORLD PREMIERES
The Black Pin (Igla Ispod Praga) (Mont-Ser)
Dir. Ivan Marinović (debut)
A Decent Woman (Die Liebhaberin) (Aust-S Kor-Arg)
Dir. Lukas Valenta Rinner
INTERNATIONAL PREMIERES
The Field (Tarla) (Tur)
Dir. Cemil Ağacıklıoğlu
REGIONAL PREMIERES
Album (Tur-Fra-Rom)
Dir. Mehmet Can Mertoglu (debut)
Dogs (Câini) (Rom-Fra-Bul-Qat)
Dir. Bogdan Mirica (debut)
Godless (Bezbog) (Bul-Fra)
Dir. Ralitza Petrova (debut)
Humidity (Vlažnost) (Ser-Neth-Gre)
Dir. Nikola Ljuca (debut)
Scarred Hearts (Inimi Cicatrizate) (Rom-Ger)
Dir. Radu Jude
OUT OF COMPETITION
All The Cities Of The North (Svi Severni Gradovi) (Ser-B&H-Mont-Fra)
Dir. Dane Komljen (debut)
Transmania (Cro)
Dirs: Dalibor Matanić, Sonja Tarokić, Hana Jušić, Bobo Jelčić, Zvonimir Jurić, Vlatka Vorkapić, Jasna Zastavniković, Filip Šovagović, Ivan Salaj, Tanja Golić, Petar Orešković, Stanislav Tomić, Edi Mužina, Ivan Sikavica, Sara Hribar
In The Same Garden (Tur-US-Rom-Aus-Ind-Spa-Ita-Hun-Swe)
Dirs: Sergei Bodrov, Paul Elia, Rolf De Heer, Ali Asgari, Roger Deutsch, García Ibarra, Andrej Landin, Gurvinder Singh
In Focus 2016
Death In Sarajevo (Smrt U Sarajevu) (Fra-B&H)
Dir. Danis Tanović
Frenzy (Abluka) (Fra-Qat-Tur)
Dir. Emin Alper
Graduation (Bacalaureat) (Rom-Fra-Bel)
Dir. Cristian Mungiu
Interruption (Gre-Fra-Cro)
Dir. Yorgos Zois
Nightlife (Nočno Življenje) (Slo-Mac-B&H)
Dir. Damjan Kozole
On The Other Side (S One Strane) (Cro-Ser)
Dir. Zrinko Ogresta
Sieranevada (Rom-Fra-B&H-Cro-Mac)
Dir. Cristi Puiu