CineLink head Amra Baksic Camo discusses the trends around this year's edition.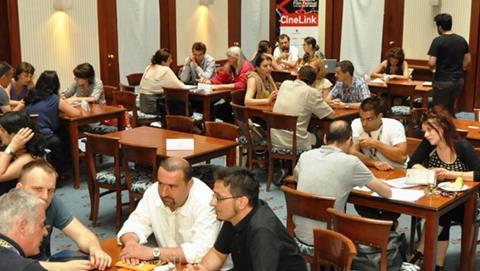 The Sarajevo Film Festival is preparing to host the 13th edition of CineLink (Aug 19-22), a development and financing platform that provides the backbone of its industry section, featuring around 25 projects suited for co-production.
The selection - split between a co-production market and work in progress event - has traditionally focused on Southeast Europe but has opened up in recent years to projects from the Caucasus region, while this year will see two projects from Doha and one from Russia.
Ahead of today's start of this year's edition, Amra Baksic Camo, head of CineLink, told ScreenDaily she was proud of the mix on offer this year.
"We have an exciting combination of experienced filmmakers and first-timers," she said. "That is the role of every CineLink: to combine recognisable faces where you know in advance there is quality with fresh discoveries that people may not know."
Female presence
Baksic Camo is also a producer with more than 40 credits to her name including Danis Tanovic's Berlin Silver Bear winner An Episode In The Life Of An Iron Picker.
Gender equality has been a talking point of this year's festival and Baksic Camo said of the CineLink selection: "I'm extremely happy that female-directed projects are represented both at the Co-Production Market and Work-In-Progress.
"In the Balkans, female voices have the same strength and international recognition as male directors – sometimes more so."
These include Ines Tanovic with The Son and Aida Begić with A Ballad – both from Sarajevo and both in the co-production market.
Austerity
In selecting the projects featured this year, Baksic Camo has noticed a trend toward tackling austerity.
"The subject of austerity is something being seen everywhere - it doesn't come only from Greece," she observed. "You can feel that people are trying to investigate in depth what is happening to us and how to deal with it, from more developed counties to the outskirts of the EU.
"But there is originality in every single story as well as a slight melancholy or humour," added the CineLink head. "There is something about Southeast European cinema where we can laugh about our tragedies and we can also be tragic about our successes."
Past successes
CineLink offers awards funds totalling more than €100,000 in cash and services.
Previous projects that found international recognition include Emir Baigazin's Harmony Lessons, which won a Silver Bear at the 2013 Berlinale; White Shadow by Noaz Deshe (Lion of the Future, Venice 2013) and The Lamb by Kutluğ Ataman (CICAE Art Cinema Award, Berlin Panorama 2014).
Baksic Camo has helped CineLink grow over its 13 years and has seen major shifts since its first edition.
"We first established CineLink to bring visibility to projects from SE Europe," she recalled.
"Now, 13 years later, everything has happened – Romanian cinema, Greek cinema, Turkish cinema, Bosnian cinema. Now we have Croatian cinema.
"CineLink has become a place where filmmakers can internationalise their projects that are in a development or production stage. And people come every year because they want to meet directors from Southeast Europe - they want to meet talent here."
Poland
Poland is this year's CineLink Partner Country, coinciding with the 10th anniversary of the Polish Film Institute.
A delegation of around 15 Polish producers and distributors will be present at CineLink, where they will meet their Southeast European counterparts over four days.
There will also be a special presentation of the Polish film industry, and Robert Balinski, co-production expert at the Polish Film Institute, will be speaking about co-producing in the digital world at the Regional Forum - the festival's high profile debate forum which addresses urgent film policy issues and challenges in the European film industry.