Twentieth Century Fox, Curzon Artificial Eye and Picturehouse lead the nominations; Absolutely Fabulous: The Movie is the most nominated film.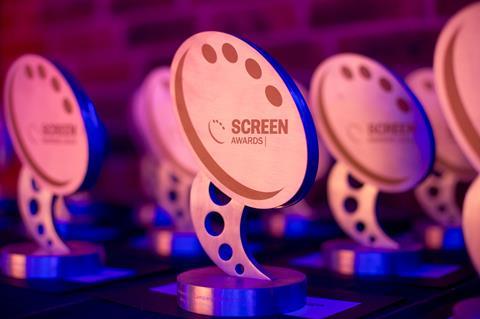 Scroll down for full shortlist
The Screen Awards 2016 shortlist has been announced, with Twentieth Century Fox leading the pack with a combined 16 nominations. Disney was shortlisted in nine categories while Universal secured two nods.
The awards recognise excellence in UK film distribution, exhibition, marketing, publicity and brand partnerships.
Twentieth Century Fox's Absolutely Fabulous: The Movie was shortlisted in seven categories while Disney's Star Wars: The Force Awakens, Pathe's Suffragette and Soda Pictures' Rams each secured four nods.
Curzon Artificial Eye racked up 14 nominations and a further two in the Rising Star category while two Curzon Cinemas were shortlisted. Picturehouse Entertainment has seven nominations, with an additional seven nods for Picturehouse Cinemas.
Metrodome was named in six categories despite an announcement yesterday that it has entered administration.
The shortlist will now be debated by an independent jury of industry experts, who select the final winners.
The winners will be announced at an awards ceremony hosted by Edith Bowman on October 20 at The Brewery in London.
The Exhibitor Lifetime Achievement Award will be announced next week.
For more on the awards, visit the Screen Awards website.
Screen Awards 2016 Shortlist
3D Film Campaign of the Year
Sponsored by Real D
Everest, Ignition Creative for Universal
The Jungle Book, Disney
The Martian, Twentieth Century Fox
Star Wars: The Force Awakens, Disney
Brand Partnership of the Year
Sponsored by DCM
Absolutely Fabulous: The Movie & Amaze Bites, Lime Communications
Absolutely Fabulous: The Movie & Diet Coke, Twentieth Century Fox
Sony Pictures and Peperami, Brand & Deliver
E4 Slackers Club, elevenfiftyfive & Picturehouse Cinemas
The Secret Life Of Pets and Petplan Insurance UK, Brand Culture
X-Men: Apocalypse & Superfast Sky Fibre, Twentieth Century Fox
Cinema Marketing Campaign of the Year
Sponsored by Movio
IMAX re-opening – Picturehouse at National Media Museum
Rebranding campaign – Showcase Cinema de Lux
The Recliner: Business Class – Vue Cambridge
Cinema of the Year - 24 Screens or Under
Aldeburgh Cinema
Edinburgh Filmhouse
The Electric Cinema, Birmingham
Electric Cinema, Notting Hill, London
Genesis Cinema, Whitechapel, London
HOME, Manchester
Palace Cinema, Malton
Phoenix Cinema, East Finchley, London
Plaza Community Cinema, Liverpool
The Picture House Uckfield
Regal Cinema Theatre & Restaurant, Redruth, Cornwall
Watershed, Bristol
Cinema of the Year - from a company 25 screens or over
Sponsored by Vista Group
Cinema City, Norwich
Cineworld Sheffield
Crouch End Picturehouse
Curzon Bloomsbury
Curzon Soho
East Dulwich Picturehouse
The Empire Leicester Square
Everyman Esher
Picturehouse at National Media Museum, Bradford
Picturehouse Central
Showcase Cinema de Lux, Reading
Creative Agency of the Year – Audiovisual
Coffee & Cigarettes
Ignition Creative London
Intermission Film
Joint London
Spinnaker London
Creative Agency of the Year – Print
AllCity
The Creative Partnership
Coffee & Cigarettes
Market Reactive
The Posterhouse
Zero Degrees West
Distributor of the Year
Sponsored by Deluxe Entertainment Services Group
Curzon Artificial Eye
Disney Studios
Metrodome Distribution
Picturehouse Entertainment
Twentieth Century Fox
Event Cinema Campaign of the Year
The Battle Of Britain At 75, TBI Media
Branagh Theatre Live: The Winter's Tale, Picturehouse Entertainment
Dragon Ball Z: Resurrection 'F', Manga Entertainment and Substance Global
The Importance Of Being Earnest, More2Screen
Vue and NT Live: Hamlet with Benedict Cumberbatch, Joint London
Marketing Team of the Year
Curzon Artificial Eye
Disney Studios
Metrodome
Picturehouse Entertainment
Twentieth Century Fox
Online Campaign of the Year
Absolutely Fabulous: The Movie, Twentieth Century Fox
Creed, Way to Blue
Deadpool, Twentieth Century Fox
Ghostbusters, Way to Blue
Love & Friendship, Curzon Artificial Eye, Way to Blue and Powster
Rams, Soda Pictures
Star Wars: The Force Awakens, Disney
Suffragette, Pathe UK
Poster Design of the Year
Absolutely Fabulous: The Movie, Twentieth Century Fox
Anomalisa, Curzon Artificial Eye
Bolshoi Babylon, Wonderland Distribution and Altitude Film Distribution
Embrace Of The Serpent, Peccadillo Pictures
Hail, Caesar!, The Posterhouse
The Lobster, Picturehouse Entertainment, Element Pictures Distribution, Protagonist Pictures & Vasilis Marmatakis
London Has Fallen, TEA
The Neon Demon, AllCity
Nina Forever, Coffee & Cigarettes
Rams, Soda Pictures
Suffragette, Pathe UK
Tangerine, Metrodome Distribution
PR Team of the Year – Agency
DDA
Hope & Glory PR
Organic
Premier
Substance
Way to Blue
PR Team of the Year - In-house
Curzon Artificial Eye
Disney Studios
Metrodome
Twentieth Century Fox
Premiere of the Year – 100 sites or above
Absolutely Fabulous: The Movie, Twentieth Century Fox
Captain America: Civil War, Disney
Ed Sheeran: Jumpers For Goalposts, Way to Blue
Kung Fu Panda 3, Twentieth Century Fox
Star Wars: The Force Awakens, Disney
Premiere of the Year – 99 sites or below
Dartmoor Killing, Barn Cinema Dartington
I Believe In Miracles, Organic Publicity
Sunset Song, Metrodome
Son Of Saul, Curzon Artificial Eye
Rising Star
Sponsored by Creative Skillset
Charlotte Jermyn, The Creative Partnership
Daniel Diaz, We Are Colony
Grahame Reid, Macrobert Arts Centre
James King, Curzon Artificial Eye
Jesse Bingham, Organic
Kelly Alyse, Way to Blue
Louise Gluckstein, Way to Blue
Mark Towers, Curzon Artificial Eye
Meg Drewett, Substance Global
Rebecca Thompson, Social Screen
Will Wood, Multitude Media
Specialist Film Campaign of the Year
Sponsored Red Rock Entertainment
A Syrian Love Story, 10ft Films
Embrace Of The Serpent, Peccadillo Pictures
He Named Me Malala, Twentieth Century Fox
Mustang, Curzon Artificial Eye
Notes On Blindness, Curzon Artificial Eye
Roger Waters The Wall, Picturehouse Entertainment
Victoria, Curzon Artificial Eye
Theatrical Campaign of the Year – 100 Sites and Over
Sponsored by Motion Picture Solutions
Absolutely Fabulous: The Movie, Twentieth Century Fox
Deadpool, Twentieth Century Fox
Star Wars: The Force Awakens, Disney
Suffragette, Pathe UK
The Revenant, Twentieth Century Fox
Theatrical Campaign of the Year – 99 Sites and Under
Sponsored by Motion Picture Solutions
Embrace Of The Serpent, Peccadillo Pictures
The Lobster, Picturehouse Entertainment
Love & Friendship, Curzon Artificial Eye
Rams, Soda Pictures
Tangerine, Metrodome
Anomalisa, Curzon Artificial Eye
Trailer of the Year
Sponsored by Powster
Absolutely Fabulous: The Movie, Twentieth Century Fox
Barry Lyndon, Ignition Creative and BFI
Bolshoi Babylon, The Picture Production Company and Altitude Films
Everest, Ignition Creative and Universal
Eye In The Sky, Ignition Creative and Entertainment One
The Lobster, Picturehouse Entertainment, Element Pictures Distribution, Protagonist Pictures & Empire Design
Notes On Blindness, Archer's Mark
Rams, Coffee & Cigarettes
Son Of Saul, Curzon Artificial Eye
Suffragette, Pathe UK