Chung Yoon-chul's war adventure stars Lee Jung-jae and Yeo Jin-gu.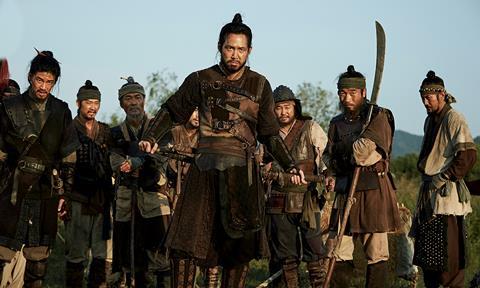 South Korean sales company M-Line distribution has picked up Fox International Productions' upcoming Korean production Warriors Of The Dawn (a.k.a. The Proxy Soldiers) (pictured).
Directed by Chung Yoon-chul (Marathon), the period war action adventure stars Lee Jung-jae (Assassination) and Yeo Jin-gu (Hwayi: A Monster Boy).
Back in 1592 when the Japanese were invading Korea - then the kingdom of Joseon, rich families would hire poor men to take the place of their sons in the draft. Tasked with fighting the enemy while supporting their impoverished families back home, the proxy soldiers were known to be superior combatants.
Lee plays a veteran proxy soldier who aids 18-year-old crown prince Gwanghae (played by Yeo), whose father the king fled to safety in China while ordering his young son to take over the country's defense.
Warriors Of The Dawn is set for local release on May 31.
M-Line will launch sales on the title in Cannes.
Anarchist From Colony
The company will also be selling hit director Lee Joon-ik's upcoming Anarchist From Colony, starring Lee Je-hoon and Choi Hee-seo.
After the Great Kanto Earthquake in 1923, colonized Koreans living in Japan were targets for mob violence. In a move to calm the turmoil, the Japanese Cabinet decides to arrest random Korean men. But, among the innocent arrestees, a man named Park Yeol throws the whole operation into confusion when he claims he has been plotting with a Japanese anarchist, Fumiko, to kill the crown prince of Japan.
Anarchist From Colony is set for local release June 29.
M-Line also will have the market screening premiere of The Tooth And The Nail, a period thriller directed by Kim Hwi and Jung Sik.
Starring Ko Soo, Kim Joo-hyuk and Moon Sung-keun, the film revolves around a love story that takes place after Korea's liberation from Japanese occupation, involving a magician, his fiancée and the copper plates for counterfeit money that go missing after she's killed.
The Tooth And The Nail is set for local release May 9.