Tala Hadid, Wong Chun also win prizes at Hong Kong International Film Festival.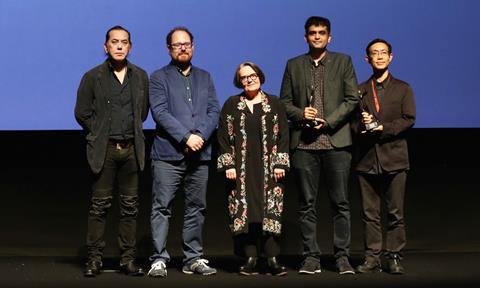 Georgian filmmakers Nana and Simon's My Happy Family won the Firebird Award in the Young Cinema Competition of the Hong Kong International Film Festival (HKIFF) on Sunday night, while Amit V. Masurkar's Newton took the Jury Prize.
My Happy Family follows a middle-aged woman who decides to move out of the family home, while Newton, which premiered in Berlin, revolves around an election polling booth in Naxalite territory in the Indian jungle. Nana and Simon previously won HKIFF's Firebird Award for In Bloom in 2013.
The Young Cinema Competition jury was headed by Polish director Agnieszka Holland and also included former Toronto International Film Festival programmer Colin Geddes, Le Monde's Thomas Sotinel and Hong Kong actor Anthony Wong.
In the Documentary Competition, Tala Hadid's Morocco-set House In The Fields won the Firebird Award, while Ma Li's Inmates, about a Chinese psychiatric hospital, took the Jury Prize.
Gabrielle Lissot's Jukai won the Firebird Award in the Short Film Competition, which was supported by Jia Zhangke's short film initiative Jia Screen. Nishikawa Tomonari's Ten Mornings Ten Evenings And One Horizon was awarded the Jury Prize, while David O'Reilly's Everything received a Special Mention.
Lee Seung-won's Happy Bus Day won the FIPRESCI Prize, while the SIGNIS Award went to MORI Yoshitaka's Satoshi: A Move For Tomorrow. The SIGNIS jury also presented a commendation to Jan Hrebejk's The Teacher.
HKIFF also introduced an Audience Choice Award this year, which went to Hong Kong filmmaker Wong Chun's Mad World. An audience member who voted for the film was selected from a lucky draw and won the 2018 Cine Fan Patron Privilege worth HK$10,000.