Dir/scr: Przemyslaw Wojcieszek. Poland. 2012. 82mins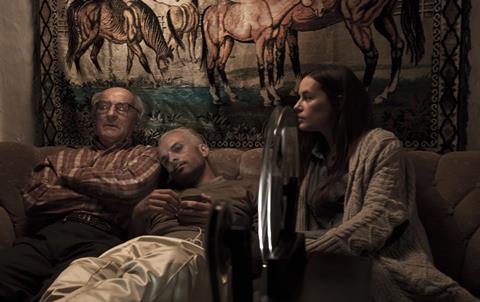 Attempting to confront the past, gay performance artist Ksawery (Tyndyk) and his Jewish agent Karolina (Podsiaklik) visit Ksawery's aged uncle Jan (Kepinsky) on his farm in young Polish director Przemyslaw Wojcieszek's experimental Secret (Sekret), another handheld HD attempt to shake off the formal bounds of cinema and see what emerges.
Wojcieszek has concocted an aggressive sound theory for the often-silent Secret.
The answer is nothing particularly new, but that's not to detract from the intense, abrasive, and deliberately jarring nature of his piece. Shouty stylistic tics - Wojcieszek wears his Fassbinder on his sleeve - cloak what is ultimately a psychologically probing attempt to relate to Poland's wartime past. Destined for experimental sidebars and noteworthy mostly for a magnetic central performance from Tyndyk, Secret's relentless narrative is a switch from his 2011 title Made In Poland into guerrilla filmmaking.
The change is outwardly characterised by endless jump-cuts, fast-framed music-video inserts (with all the principals individually filleting a fish), and naked actors running through the forest and screaming at the camera. Yet for all its look-at-me "modernity", Secret's main attraction is the oldest of all in cinema - the three characters inhabiting its heart.
Talented yet isolated, the only person Ksawery feels close to is his 80-year-old uncle Jan, a former resistance solder who lives in a remote country house and fully accepts his nephew's alternative lifestyle. In his professional life, Ksawery falls somewhere between drag queen and performance artist, and he brings his agent Karolina to visit Jan, aware this trip will bring to the fore the unsolved wartime disappearance of the house's former owner, the poet Aikerman, and his young son.
Old, yet far from frail, Jan seems to almost welcome the visit, while Ksawery is torn by something he can no longer avoid. Karolina is more of a narrative device, however; the past personified, lurking in the shadows.
As Ksawery, Tyndyk is a strong presence in a physically and mentally demanding role, and helps anchor a difficult project, especially in sequences such as a local wedding that the trio attend. Wojcieszek splits the action into chapters, headed by Madonna song titles - Live To Tell, Justify My Love, etc. Handheld camerawork by Kuba Kijowski can show still beauty amid the frenetic editing.
Wojcieszek has concocted an aggressive sound theory for the often-silent Secret: most noticeably through the conceit of having Ksawery, a dancer, perform silently throughout but also in those aggressive music video bursts and shouting to camera.
Production company/international sales: Dynamo Karuzela, kontakt@dynamokaruzela.pl
Producer: Katarzyna Majewska
Cinematography: Kuba Kijowski
Editor: Daniel Ziola
Production designer: Milena Czarnik
Music: Krzysztof Pretkiewicz
Main cast: Tomasz Tyndyk, Agnieszka Podsiadlik, Marek Kepinski