A 14-year-old boy acquires the ability to become an adult superhero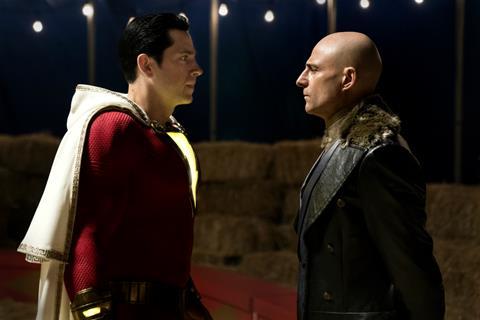 Dir: David F. Sandberg. US. 2019. 132mins
Shazam! exudes a boyish spirit appropriate for a superhero origin story about a teenager who gets invested with powers far beyond his adolescent imagination. This latest DC adventure is, however, a mixed bag that doesn't quite work — it's too jokey, and too tonally erratic — and yet there's real sweetness, as well as a genuine attempt to not just be another comic-book movie. Director David F. Sandberg's family-friendly offering proves to be brattier and more juvenile than the usual fare, and Zachary Levi makes for a very likable, dorky hero, even if Shazam! itself never settles on a consistent personality.
Shazam! struggles to offer a compelling alternative to a familiar but reliable blockbuster-movie template
Landing in UK and US theatres on April 5, this Warner Bros. release probably won't hit Aquaman numbers (currently $1.1 billion worldwide), and the Shazam character isn't as well-known as Superman or Batman. But Shazam!'s irreverent attitude could help it find daylight amidst a heavy crop of event pictures like Captain Marvel, Dumbo, Hellboy and Avengers: Endgame.
The film stars Asher Angel as Billy Batson, a 14-year-old who's been part of the foster-care system since his single mom abandoned him as a boy. Billy is sent to live with his umpteenth set of foster parents, befriending one of their other adopted children, Freddy (Jack Dylan Grazer), who's obsessed with comic books. Teleported into a magic realm by a wizard (Djimon Hounsou), Billy is given superpowers that he can activate whenever he says "Shazam!" — an incantation that transforms him into a grown man (Levi) with an incredible physique. But he will soon confront Dr. Thaddeus Sivana (Mark Strong), a human who's collecting evil powers and wants Billy's abilities for himself.
Sandberg (Annabelle: Creation) made his name as a horror director, and that background helps inform Shazam! which, although chiefly a film about two teenagers geeking out about the fact that one of them has superpowers, also dabbles in slapstick comedy, family drama and several scare scenes. (Sivana's dark powers are derived from the seven deadly sins, each of which is represented by a terrifying ghoul.) Shazam! is geared for younger audiences than the typical comic-book movie, but Sandberg is unafraid to give kids a good shock — an indication that the director has faith in his viewers' ability to handle the more intense moments.
Unlike fellow teen superhero Peter Parker, Billy is a scrappy survivor who believes he doesn't need anyone. Feeling unloved and wary of those who try to get close to him, he's in some ways the best (and worst) person to acquire the ability to shoot lighting bolts, withstand bullets, and lift large objects. As Shazam, Billy finally gets to feel mighty, and Shazam! has a good amount of fun depicting his giddy exploration of his powers, even working in a Big reference.
The flipside to Billy's newfound superhero status, of course, is that he's still that anxious, insecure boy. Henry Gayden's screenplay tries to draw out those ironies, but Shazam!'s emotional moments tend to be bluntly executed. Levi is far better portraying Billy's delight at being a buff, handsome crime-fighter — the Chuck star is a convincing big kid — than in navigating the film's more poignant sequences.
Another intriguing but missed opportunity is Shazam!'s subtle suggestion that its narrative is a metaphor for standing up to bullies. Freddy has a disability that hampers his ability to walk, Billy has never gotten over his feelings of betrayal, and the other foster kids have their own psychic wounds that make them targets at school. Strong's Sivana isn't a well-conceived villain, but his menacing presence (alongside the frightening ghouls) seems symbolic of the bogeymen all children must face in their youth: mean, cruel tormenters who can haunt us unless we learn to fight back. Shazam! hints at something primal in this showdown between a scared kid and an evil adult (who has his own childhood scars), but Sandberg isn't quite deft enough to carry off the idea.
Still, the film has its share of solid laughs. (Unsurprisingly, two of Shazam's first tasks as an "adult" are to buy beer and go to a strip club, except neither scenario plays out as we'd expect.) But in its zeal to thumb its nose at superhero conventions, Shazam! struggles to offer a compelling alternative to a familiar but reliable blockbuster-movie template. The movie enjoys kidding around, but its cheeky immaturity starts to feel like a flimsy substitute for the grownup heroics of Shazam's iconic cohorts.
Production company: Peter Safran Productions
Worldwide distribution: Warner Bros.
Producer: Peter Safran
Screenplay: Henry Gayden, story by Henry Gayden and Darren Lemke
Production design: Jennifer Spence
Editing: Michel Aller
Cinematography: Maxime Alexandre
Music: Benjamin Wallfisch
Main cast: Zachary Levi, Mark Strong, Asher Angel, Jack Dylan Grazer, Adam Brody, Djimon Hounsou