Dir/scr: Anand Gandhi. India. 2012. 139mins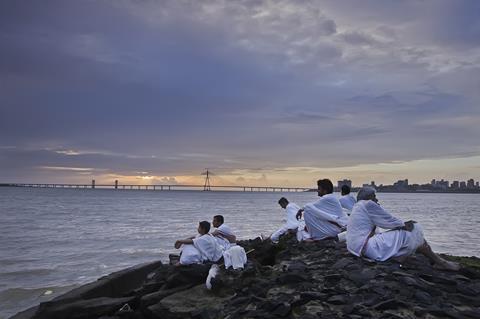 Long and meandering, ambitious, and probing, well meaning and un-commercial, Ship Of Theseus is one of Mumbai cinema's new independent faces. The first-time director of this triptych of modern Indian fables studied philosophy rather than film, and it shows.
Ship Of Theseus is a promising example Indian independent cinema, aiming at art and importance rather than mere profit.
Finding an audience beyond the festivals and some art houses will be a challenge for plucky Anand Ghandi's debut feature. More than two hours long, it has no marquee Indian stars, and the only genre into which it fits is the philosophical dialogue. Media attention from exposure in Toronto probably won't hurt Gandhi's next project, a horror film, Tumbad, set in an Indian village in the 1930s.
Gandhi's reflections come to us in three stories – a blind photographer (Egyptian actress Aida Elkashef) faces a crisis in documenting the world around her when her sight is partially restored; an ailing ascetic (Neeraj Kabi) follows the path of a more famous Gandhi in seeking the absolute and starving himself "unto death" and a Mumbai stockbroker (Sohum Shah) undergoes a crisis of conscience when he receives a kidney transplant, and then searches for crooks in the corrupt organs trade.
The three tales point back to the film's title, which exhumes the question (from Plutarch) of whether an object that has had many of its parts replaced remains the same. If none of the planks on the Ship Of Theseus is original, is it still the same ship?
Gandhi, who wrote the script for this moral inquiry (and previously worked in soap operas and theater), takes his time to address these questions of identity and meaning, as a first-time novelist might in a book that tries to say a bit of everything. His screenplay moves in and out of digressions, with its characters hovering around storylines that unfold as parables.
Ship of Theseus can be didactic as it nudges audiences toward environmental harmony and economic justice, but it's never preachy or sanctimonious. The credit for that balanced tone goes to its actors, who put real people at the core of these moral tales.
In the hands of cinematographer Pankaj Kumar, another first timer, the look of the film is anything but exotic (eschewing the Slumdog Millionaire mold) as it ranges from the handheld domestic setting of a blind woman's Mumbai apartment to the austere lyricism of a breeze stirring white robes on the stone floor where a monk has chosen to die.
For a project of such highmindedness, Gandhi even gets laughs in a scene where his stockbroker and a mate take to Mumbai's poor neighborhoods in search of a desperate man who lost his kidney in an operation that was supposed to remove far less from his body. Passageways for the poor are too narrow for the two privileged beneficiaries of India's economic boom, and the men get stuck, literally. It's a gag that can work for any audience.
Even with its charms, Ship Of Theseus is still unmistakably a first feature, with uneven production values in sound and image and scenes that go on far too long – despite the enlisting of a European editor Reka Lemhenyi.
Budgeted at some $800,000, Ship Of Theseus is a promising example Indian independent cinema, aiming at art and importance rather than mere profit. As an audition tape, it will make conventional producers wary. Yet there's something doggedly confident about Anand Gandhi that suggests he'll be back, and that he'll have company among other independents targeting a new Indian audience.
Production companies: Recyclewala Films Fortissimo Films
International sales: Fortissimo Films, www.fortissimo.nl
Producers: Mukesh Shah, Sohum Shah
Executive Producer: Mitesh Shah
Cinematography: Pankaj Kumar
Editors: Adesh Prasad, Sanyukta Kaza, Satchit Puranik, Reka Lemhenyi
Music: Naren Chandavarkar, Benedict Taylor
Production designers: Rakesh Yadav, Pooja Shetty
Main cast: Neeraj Kabi, Sohum Shah, Aida Elkashef, Faraz Khan, Vinay Shukla, Amba Sanyal