Dir: Bille August. Denmark. 2014. 98mins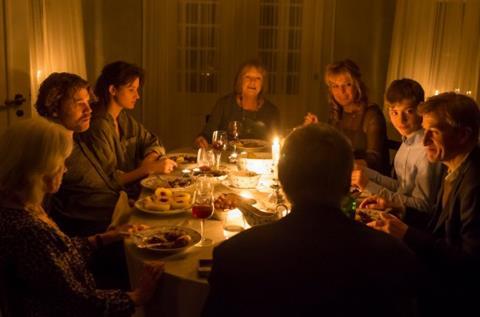 Silent Heart, an intimate family drama about assisted suicide, is shot almost entirely inside a muted Danish country house over the course of a mid-winter weekend. Even when the family does escape for a brisk walk, the grey seas provide little relief from their bleak plight. They know that, once they drive off in their cars on Sunday night, their terminally ill mother will kill herself with the help of their doctor father.
Silent Heart is a tastefully shot film at the services of its actors.
An impressive lead performance from Ghita Norbry may be acknowledged by the San Sebastian Film Festival, where Silent Heart premiered, but distributors and audiences could well prove wary of this downbeat film, which skims over similar ground to Amour and the lesser-known A Few Hours of Spring. With its female perspective, squabbling siblings, mental illness and a deadbeat boyfriend, Silent Heart can feel like the gloomy Euro relative of August: Osage County.
Director Bille August does shoot a few rays of light into the dimness - when the family sits around toking on a joint, for example, or dances around the Christmas tree (although Norbry has to peel off from the traditional jig to clutch at her chest) - but Silent Heart's overall tone is as relentless as its matriarch's advancing disease.
Bille August is a veteran Danish director whose work since Pelle The Conqueror (1987) has literally spanned the globe; he's the first Western director to collaborate with a Chinese studio, for example, while his last film was Night Train To Lisbon in 2013 and he has shot episodes of Young Indiana Jones for TV. He returned to Denmark in 2012 for Marie Kroyer, but Silent Heart scales him back home to the point of literally shutting the doors on the outside world.
The reliable Paprika Steen plays the couple's oldest daughter Heidi, an uptight middle-aged mother with an ineffectual husband and a charming teenage son. She maintains an uneasy relationship with her troubled younger sister Sanne (Danica Curcic), who is mentally ill, and, it quickly transpires, has attempted suicide in the past. Together they have agreed with their mother Esther (Norby) and father Poul (Morten Grunwald) that they will not wait until Esther's illness robs her of her mind and independence. They will have one last weekend together as a family before, assisted by Poul, she ends her own life.
August, working from Christian Torpe's screenplay, isn't overly concerned with the legalities of that decision, which are quickly glossed over and then just as speedily resuscitated for dramatic convenience. He prefers to dwell on the moral choice facing the protagonists. Knowing this is the last few hours they will spend with their mother prompts the sisters to re-examine their reluctant agreement to accept her decision, and there will be many arguments, breakdowns, and tearful confrontations before 6pm on Sunday finally rolls into view.
Arriving unexpectedly is Sanne's pothead boyfriend Dennis (Pilou Asbaek), who injects some small amount of levity into the proceedings, but outside the three female leads, Torpe's characters are depicted with the widest of brushstrokes and are little more than dramatic devices.
Heidi's husband, for example, has no real purpose past illustrating her domineering nature, so escapes with a couple of lines of dialogue. Esther's best friend is there to provoke a confrontation by proxy and gets no other airplay. The teenage son, rather unbelievably for this middle-class family, is allowed to spend the last hours of his grandmother's life surfing Facebook. Even Poul gets scant consideration, emasculated to the point where Esther makes all the decisions about his romantic future even as his daughters question his abilities as a doctor.
Production credits here are solid and discreet; Silent Heart is a tastefully shot film at the services of its actors. And it is certainly well performed by all three female leads (Curcic, as Stanne, is also noteworthy). It is, at times, intensely moving. It is also, deliberately, claustrophobic and airless. What it isn't is a nuanced debate on assisted suicide – this is a film about a good woman who makes what the film-makers believe to be the right decision to kill herself and everything which transpires is there to underscore that fact. While the film's palette is decidedly grey, its message could have been better reinforced with some subtle shading.
Production company: SF Film Production
International sales: LevelK, www.LevelL.dk
Producer: Jesper Morthorst
Executive producer: Michael Fleischer
Screenplay: Christian Torpe
Cinematography: Dirk Bruel
Editors: Anne Osterud, Janus Billeskov Jansen
Production designer: Jette Lehmann
Main cast: Ghita Norby, Paprika Steen, Danica Curcic, Morten Grunwald, Pilou Asbaek, Jens Albinus, Vigga Bro