Dir/scr: Janez Burger. Slovenia-Ireland-Sweden-Finland. 2011. 84mins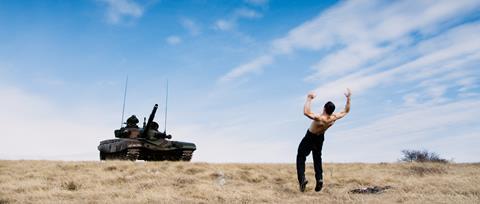 An elegant exercise in classic European magical realism, Janez Burger's Silent Sonata (which until recently had the perhaps more intriguing title of Circus Fantasticus) is a beautifully shot musing on life amidst conflict. With its emphasis on colour, form and tone rather than dialogue – well, there isn't any – it will certainly appeal to film festivals, while it also has a distinct quirkiness that may help it work with bold distributors.
There are moments of odd beauty in amidst the general oddnes.
The film opens in an unnamed Balkan country where a farmer's (Leon Lucev) wife is shot and he and his children (Luna Zimic Mijovic, Devi Bragalini) mourn her. That night, seeing trucks approach his home, the farmer hides his children, grabs his rifle and prepares the fight off the invaders.
But it turns out to be a travelling circus – the 'Circus Fantasticus' of the original title – that opts to set up camp at the farm. The travelling troupe have with them their elderly ringmaster who is close to death, and as he rests inside the farmhouse the assortment of performers – from strongman and clown to high-wire act and musicians – set up camp, sing, frolic and practice their acts.
But their odd idyll is threatened with a tank appears on the skyline and fires a series of warning shots. The circus strongman runs at the tank and taunting the soldiers performs a series of acrobatic stunts, until out of the blue the tank is blown up by a high-flying jet. The circus sets up a special performance for the dying ringmaster and he is eventually buried in the field alongside the farmer's wife.
There are moments of odd beauty in amidst the general oddness – though there is something strangely cringeworthy about the circus as some sort of metaphor for the human spirit – and while oddly watchable it is a film that intrigues rather than inspires. Shot largely in Eastern Europe, but with a beach interlude (and a very nice one too) filmed in Ireland Silent Sonata works in its own terms as a piece of wordless performance, but less as a film for general audiences/
Production companies: Stargara, Fastnet Films, Cine Works, RTV Slovenia, The Chimney Pot, Film i Vast
International sales: Fortissimo Films, www.fortissimofilms.com
Producers: Jozko Rutar, Petra Basin, Morgan Bushe
Cinematography: Divis Marek
Editor: Milos Kalusek
Production designer: Vasja Kokelj
Music: Drago Ivanusa
Website: www.silentsonatamovie.com
Main cast: Leon Lucev, Rene Bazinet, Pauliina Rasanen, Ravil Sultanov, Luna Zimic Mijovic, Marjuta Slamic, Devi Bragalini, Enej Grom, Daniel Rovai, Viatcheslav Volkov, David Boelee