Sitges International Film Festival, Spain's leading genre event, has revealed three world premieres for this year's edition.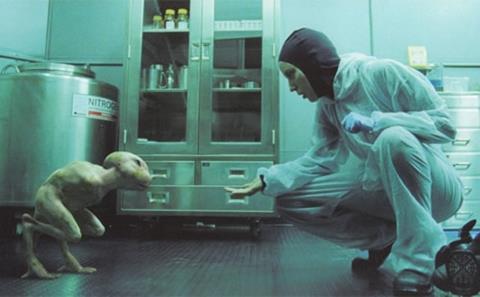 The festival, one of the biggest genre events in the world and favourite of film-makers including Quentin Tarantino, it will open with [Rec]2 by local directors Jaume Balaguero and Paco Plaza. It runs October 1 – 12.
US director Vincenzo Natali's Splice is the biggest of the world premieres. It stars Adrien Brody as a scientist who hopes to evolve the human race through biogenetics. Eduard Cortes' Ingrid, also a local title, will also have its debut. Both films are in competition.
The remaining world premieres are Ivan Engler and Ralph Etter's anticipated Swiss sci-fi film Cargo, starring Martin Rapold, local director Manuel Huerga's documentary Son & Moon: Diario De Un Astronauta about the space race; and Japanese animation film King Of Thorn.
The festival will also host three international premieres:
Andrew Lancaster's Accidents Happen, starring Geena Davis
Jean-Marie and Arnaud Larrieu's Happy End, starring Sergi Lopez
Oliver Parker's Dorian Gray, starring Colin Firth and Rebecca Hall.
Competition selection
[Rec] 2, dirs: Jaume Balaguero, Paco Plaza (Spain)
Hierro, dir: Gabe Ibañez (Spain)
Ingrid, dir: Eduard Cortes (Spain)
Enter The Void, dir: Gaspar Noe (France-Germany-Italy)
Kinatay, dir: Brillante Mendoza (Philippines-France)
Splice, dir: Vincezo Natali (US-Canada-France)
Mr Nobody, dir: Jaco van Dormael (Canada-Belgium-France-Germany)
Accidents Happen, dir: Andrew Lancaster (Australia-UK)
Cold Souls, dir: Sophie Bartes (US-France)
TiMER, dir: Jac Schaeffer (US)
La Horde, dirs: Yannick Dahan, Benjamin Rocher (France)
Happy End (Les Derniers Jours Du Monde), dirs: Jean-Marie and Arnaud Larrieu (France-Spain-Taiwan)
The Children, dir: Tom Shankland (UK)
Dorian Gray, dir: Oliver Parker (UK)
Accident, dir: Soi Cheang (Hong Kong)
Thirst, dir: Park Chan Wook (S Korea)
Yatterman, dir: Takashi Miike (Japan)
Grace, dir: Paul Solet (US-Canada)
Dogtooth (Kynodontas), dir: Giorgios Lanthimos (Greece)
Moon, dir: Duncan Jones (UK)
The Countess, dir: Julie Delpy (Fracne-Germany)
Ne Te Retourne Pas, dir: Marina de Van (France-Italy-Luxembourg-Germany)
Metropia, Tarik Saleh (Sweden-Denmark-Norway-Finland)