Dir/scr: Sakaguchi Katsumi. Japan. 2011. 96mins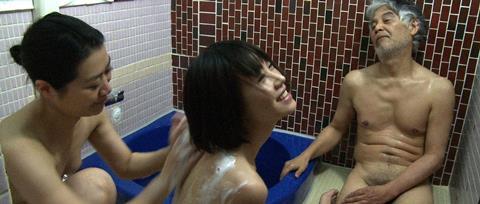 A grippingly strange and edgy drama, Sakaguchi Katsumi's Sleep (Nemuri Yusurika) is a triumph of disturbingly dark performances as a supremely dysfunctional family goes about their grim plans for revenge.
Sleep is an impressively subversive and grim tale, but also well made and disturbingly watchable.
But despite the darkness of the plot, it also revels in the vitality and commitment of its loving family-unit… despite it being one of the oddest families to be seen. Documentary filmmaker Katsumi makes a fine transition to drama, and the film deserves to find further festival slots as well as possibly intriguing niche purveyors of Japanese cinema. The film has its world premiere at the Rotterdam International Film Festival.
The film opens in blunt fashion, with 15 year-old Kotono raped as she cycles home from ballet classes. Seventeen years later and Kotono (Mariko Hirano) - who longer speaks – her crippled father and her daughter Natsume (born out of the rape) lead a nomadic life, living in a van.
Kotono now works as a masseuse, and has a teenage daughter present at each and every appointment, even if Kotono is also hired for sex. A chatty Natsume (Miyuki Komogata) also looks after the disabled father, carrying him up flights of stairs to the brothel bathroom, and stripping them both so they can shower and wash each other.
The money that they earn is used to hire detectives to try and track down the man who raped Kotono. But when the man – who they discover is called Mr Meguro – is finally tracked down, they find him in hospital suffering from cancer and close to death. Natsume also sees him with his wife and young children.
Kotono is tormented by the news, and during one massage session leaves the room to spent time by herself, only for the client to insist on his 'full massage', grabbing and raping Natsume. Kotono becomes increasingly hysterical and even the father tries to kill himself, by dragging himself out of their van and towards the river close to where they are parked.
More violence follows with Kotono killed at the van by a random baseball-wielding disenfranchised youth. A tortured and tormented Natsume drags her mother's body Mr Meguro's house – where he is now spending his final days – to confront the dying man and his family.
The travails of this tremendously tormented family make for almost Shakespearian viewing, but despite the underlying bleakness of the revenge plot there is an astonishing amount of odd uninhibited warmth between the threesome. The three happily bathe together, laughing as they clean each other, and their honest loyalty and affection acts as a delightful counterbalance to the almost hysterical darkness of the brutality and death that surround them.
Shot in a dark as realistic manner, Sleep is an impressively subversive and grim tale, but also well made and disturbingly watchable.
Production company: Supersaurus
International sales: Tiffcom
Producer: Atsuko Ochiai
Cinematography/editor: Sakaguchi Katsumi
Main cast: Mariko Hirano, Miyuki Komagata, Takushi Iwao, Aimi Kobayashi