The island nation's soca superstar paid a heartfelt tribute to the excellence of local talent at the world premiere screening of his acting debut on Wednesday at the trinidad + tobago film festival.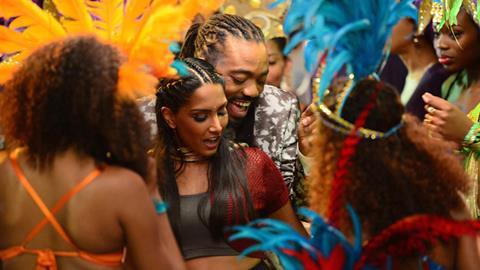 Machel Montano, who rose to fame years ago as a performer of soca, an up-tempo fusion of African calypso beat and Indian dholak drumming, stars as a down-at-heel musician who falls for an Indian businessman's betrothed daughter during Carnival.
"I'm proud of our film," Montano told the audience at the Movie Towne multiplex in Port Of Spain prior to the screening of Bazodee. "I was also very proud and impressed with the local talent in Trinidad & Tobago. From every single department I can think of, all excelled."
He said screenwriter-producer Claire Ince first approached him with the story nearly a decade ago. "After nine years and falling in love with this script I must say it was a labour of love."
Appropriately enough the West Indian word 'bazodee' approximates to 'disoriented' and in this case applies to the dizzying power of love.
The film stars London-born newcomer of Sri Lankan descent Natalie Perera as Montana's love interest and Bollywood stalwart Kabir Bedi as her on-screen father.
"At heart this remains a true Trinidadian film and I can think of no other film that's more fitting to have its premiere at the film festival," said Bedi, whose credits include Khoon Bhari Maang, Kurbaan and the James Bond thriller Octopussy. "Unless you support the films that tell your stories, your stories will not be told."
American director Todd Kessler told the audience, "About 80 or 90 percent of the people who worked on this film are from Trinidad… it would not be this movie if it were not for the work of the people who stayed up all night and went unsung."
"I am confident this film will propel Machel to even greater international stardom," said festival director and founder Bruce Paddington, who has a personal connection to Montano — the performer played at his son's wedding.
The festival runs until September 29.