Dir/scr: Eduardo Coutinho. Brazil. 2011. 90mins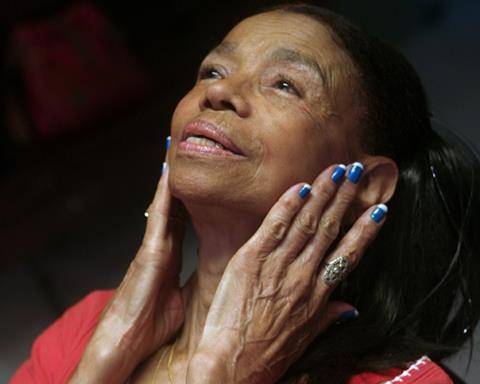 In any genre, music can drive narrative, a little or a lot. It rarely, however, outdoes the visuals. This documentary by veteran Brazilian filmmaker Coutinho (he is 78), in which 18 different poor and working-class Cariocans sing one after the other directly to the camera melodies of strong significance in their lives: The songs ARE the narrative. He found the participants through the internet, classified ads, and street billboards.
Some of the stories are even more grotesque, the stuff of sub-tabloid journalism.
There is no imbalance here: The accompanying gestures and expressions are apt complements for the lyrics and tunes. Music helps regurgitate the emotions behind them, so that we experience these people natural and raw. Spontaneous crying frequently interrupts the songs. Most of the singers have been left behind by their lovers, often the loves of their lives.
The singers are often poets of the vernacular, earthy, visceral types whose exterior and interior lives are in synch. They point to their favourite singers; Roberto Carlos appears to be the favourite. This is masterful filmmaking by that rarity, a documentarian who finds an audience in his home country. The universality of music, of course, makes the film a candidate for respectable international reception.
Songs (As Cancoes) has been screened at both the Rio (where it won both audience and jury prizes) and Sao Paulo festivals, and had its international premiere at IDFA, part of a Coutinho retrospective. It's first US screenings, both in New York, are in July-August at the Museum of Modern Art and the Film Society of Lincoln Center, which should help raise the film's profile and take it out of the documentary ghetto (though, a bit of a distribution dilemma, keeping it inside Brazilian and Latin American ghettos, respectively).
Coutinho is at the top of his game, foregrounding the affective, personal nature of these songs and their vocalists (all sung a cappella) against a gorgeously minimalist backdrop comprised of nothing but a curtain, some white light and dark shadows, and a single black chair. The performers take centre stage without any visual distraction, highlighting even more the passion, joy, regret, revenge, and melancholy they reflect upon through samba, something resembling Portuguese fado, or just plain slow-rhythm love songs.
The last thing Coutinho seeks is perfection: His scenes are often not seamless, no effort made to mimic continuity. This is what life is about. This is why the singers do not march out North Korean style in precisely measured time: One may go off to the side, one may miss a beat, but it's just going to go in the final film like that. One woman, Maria de Fatima, needs to change key mid-song. No problem. She begins anew, but all has been recorded, warts and all, and all will be in the final cut.
The range of themes the singers address (and sometimes speak about) is wide. Most are about love in some form, but mainly lost—"our song' is a familiar comment. But having "our song" isn't always a plus. 'Suffer like I suffered for you," croons Jose David. "Oh this poor heart of mine," Fatima sings sadly. Silvia is resigned: 'I've already been down this path. I know it goes nowhere." These individuals do not hold back; neither does the culture from whence they come: Few of the stories have happy endings like one would find in, say, North America, and several are absolutely tragic, with revenge, murder, and infidelity coming up with more frequency than fulfilling relationships.
The main source of their songs is radio. Coutinho has pointed out that Brazil is relatively devoid of literature and art, but songs occupy a prominent place in peoples' lives. Maria Aparacida chants 'Treachery" as she recalls how the presence of a handsome man on a train interrupted her plan to kill her children in another town; he inadvertently saved their lives and moved in with their mother.
Some of the stories are even more grotesque, the stuff of sub-tabloid journalism. Coutinho, a veteran of TV reporting, turns against its conventions and goes for the atypical, odd story. He honours those who live life fully, and validates their trials by committing their tales and songs to celluloid.
Production company/sales: Videofilmes, tel: +55 21 3094-0810
Producer: Eduardo Coutinho
Executive producers: Joao Moreira Salles, Mauricio Andrade Ramos
Cinematography: Jacques Cheuiche
Editor: Jordana Berg
Main cast: Sonia Regina do Nascimento, Dea Franco, Gilmar Altamiro, Jose Barbosa, Nilton Severino da Silva, Isabell Erdmann, Ozio Albino Santarem, Jose Lins Araujo, Lidia Silva Montezuma, Gilson Jose dos Santos Santana (Queimado), Fatima Gomes Pereira, Maria de Fatima Franca Damasceno, Ramon Angeli de Sousa, Elaine Medeiros Aride, Jose David de Sa, Maria Aparecida da Silva Brauns, Silvia Helena