In South Korea, Lotte Cinema's Super Plex G has qualified as the world's biggest screen in the Guinness World Records.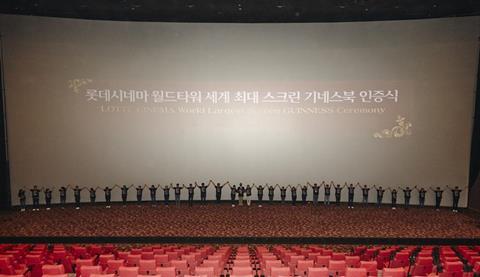 With 622 seats in a two-storey opera theatre style cinema, the screen is 34 metres wide and 13.8 metres high.
The screen is part of the Lotte Cinema World Tower complex of 21 screens and 4,615 seats, which Lotte finds to be the largest in Asia.
It is located in the second Lotte World Tower, currently under construction in Jamsil in southern Seoul and set to be the tallest building in Korea at 123 floors and 555 meters.
Guinness World Records official Jack Brockbank was there yesterday to present the qualification certificate. 34 people stood in front of the screen to show its size.
Produced by Harkness Screens, the Super Plex G was manufactured in a factory in France.