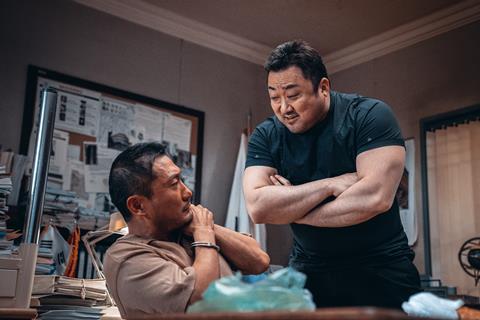 South Korea's box office reached nearly 50% of pre-pandemic levels in the first half of 2022, according to a new report from the Korean Film Council (KOFIC).
Total box office for the first six months of the year period was $345.7m, the equivalent of 48.7% of the same period in 2019.
Compared to the first half of 2021, ticket sales have increased by 143%. Admissions rose 124.4% to hit 44.94 million.
Box office takings have accelerated sharply in South Korea since pandemic social distancing restrictions were loosened on April 18. From April 25, cinema-goers have been allowed to eat and drink in theatres.
The loosening of restrictions helped the May to June period see a return to pre-pandemic ticket sales.
Doctor Strange In The Multiverse Of Madness opened May 4, followed by The Roundup on May 18. The KOFIC noted that the combination of the Marvel and Korean crime action films contributed to the box office recovery.
Doctor Strange In The Multiverse Of Madness took $47.8m and came in second place in the overall first half box office rankings.
The Roundup, starring Don Lee - also known as Ma Dong-seok - was the first film to go over the 10 million admissions mark (the local measurement of a blockbuster) since the start of the pandemic in 2020.
The sequel to The Outlaws, featuring Lee as a 'beast of a cop' solving crimes and meting out justice in Vietnam, led the box office with $96.13m and 12.22 million admissions in the first half alone. It has accumulated more than 12.65 million admissions to date.
Jurassic World: Dominion, which took $22.2m, The Witch: Part 2. The Other One ($19m) and Top Gun: Maverick ($17.7m) all opened in June. Overall box office sales rose to $120.7m in June, on par with pre-pandemic levels.
Local films, which had their worst year in a decade in 2021 with only 29.7% market share, went back up to taking 50% of box office sales.
Disney led the distributor rankings with ticket sales of more than $56.5m, taking 16.3% market share with 14 titles including the Doctor Strange film.
Amongst distributors, Megabox Plus M came in second after taking $54.6m and 15.8% of total box office with local films such as The Roundup, which it co-distributed with ABO Entertainment, and Kingmaker, which took $5.57m.