Dir: Mat Whitecross. UK. 2012. 96mins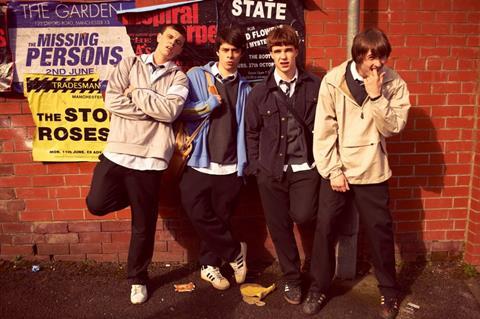 At its core, Spike Island is a rites-of-passage film in which four young lads attend a rock concert together and come back as different people. So far, so universal. But as presented by the talented Mat Whitecross and writer/actor Chris Coghill, Spike Island is very specifically set in 1990 Manchester and a Stone Roses gig on the Mersey Estuary, complete with at-times impenetrable dialogue and names which don't have quite the resonance they had two decades ago. This could pose a serious marketing challenge for this vibrant, attractive piece that deserves a wider outing than cult.
Spike Island has a very clear, authentic sense of time and place, leading to many memorable moments that help it stand out from the genre crowd.
Spike Island has two strengths, however, which could break it out. There's Whitecross' uncanny visual ability with music sequences as the film joyously skips through a pitch-perfect Madchester soundtack. With Coldplay executive producing, this has a rock-ready pedigree. Secondly, Spike Island is also a vehicle for Shameless star Elliott Tittensor. The camera loves this young Manchester actor, who has the talent to carry a feature film (if not quite the diction, just yet).
Tittensor plays 'Tits', in his last year of school and the lead singer in Shadow Caster, an indie band of neighbourhood friends that also includes Dodge (Mirallegro), Zippy (Jordan Murphy) and Little Gaz (Adam Long). They all fancy local lass Sally (Emilia Clarke) - Tits and Dodge more than the others - and are desperate for tickets to the sold-out Stone Roses gig on Spike Island, a reclaimed nuclear waste site on the Mersey Estuary.
Young and irresponsible though he may be, Tits has increasingly grown-up issues to deal with as his father (Evets) draws closer to death, and his mother (Manville) leans on him for support. Brother 'Ibiza Ste' (McNulty) is happy to shirk any responsibilities, however, and Tits struggles with his conscience as the concert draws closer.
Spike Island has a very clear, authentic sense of time and place, leading to many memorable moments that help it stand out from the genre crowd. There's Uncle Hairy (Coghill), in a camper van out the back of the rows of terraced houses ('the redbricks') in which the boys live, for example, or the rival local band The Palaver. But there's also an extended road trip sequence in a camper van that is all but unintelligible to the naked ear. As with the recent Scotland-set Angel's Share, it's clearly not at all desirable that principals in a Manchester-set film go around speaking with RP. But neither is it beneficial to force the audience to strain so hard for dialogue - it pulls the viewer out of a film which is otherwise so devoted to enveloping them in sound and colour.
Spike Island is Chris Coghill's first feature script, and the collaboration with Whitecross started on the set of that other Madchester film, Michael Winterbottom's 24 Hour Party People. Spike Island turns the story around into the audience and peers into their lives, and is stronger when it comes to all-male camaraderie than it is with poorly-fleshed out female roles, in particular that played by Emilia Clarke. It can feel episodic and a little jerky, but Whitecross pulls out the stops with some bravura sequences at the concert climax – watching this really is the next best thing to having been there.
Spike Island is the director's second feature to be released after Sex&Drugs&Rock&Roll and sees him cut back on the more showboating visual flourishes of that Ian Dury biopic to focus more tightly on the story at hand. With a background in music (he shot iconic videos for Coldplay, for example), he draws on his strengths (Ashes, his thriller with Ray Winstone, is currently awaiting release) and pulls together a talented team - technical credits hit the right note and keep it high.
Apart from the Stone Roses music, John Squire's artwork is also featured and the film draws its visual motif from it. Christopher Ross's camera captures perfectly the rush of teenage energy while Richard Bullock produces a Manchester and Merseyside you can believe in (apart from the CGI Stone Roses crowd, which is a little too perfect for the grunge aesthetic).
Production companies: Fiesta Productions, Headgear Films
International sales: Bankside, films@bankside-films.com

Producers: Fiona Neilson, Esther Douglas
Screenplay: Chris Coghill
Cinematography: Christopher Ross
Editor: Peter Christelis
Production designer: Richard Bullock
Main cast: Elliott Tittensor, Emilia Clarke, Nico Mirallegro. Matthew McNulty, Lesley Manville, Michael Socha, Steve Evets