EXCLUSIVE: Founder and CEO Matt McCombs and his sales team head to Santa Monica with a sales roster featuring Gabriel Byrne and Harvey Keitel, among others.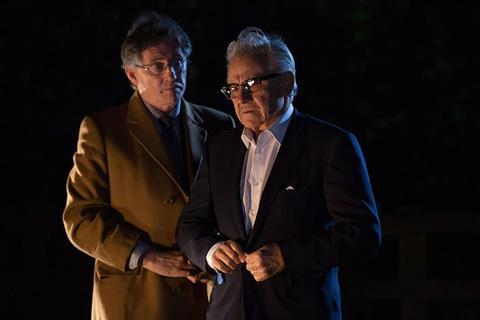 The pair star in Lies We Tell, (pictured) about the driver of a recently deceased businessman who lands in hot water when he attempts to save the family legacy and cover up his employer's affairs.
Mitu Misra makes his directorial debut and the film by Bradford International Film Associates is in post-production.
Camellia Entertainment's sci-fi thriller After Darkness features an ensemble cast led by Kyra Sedgwick, Tim Daly, and Natalia Dyer from Netflix hit Stranger Things.
The film centres on an affluent family living at a time when the Sun's death threatens to destroy mankind. Spotlight will screen the film at the market.
Horror Fear, Inc. from Lone Suspect premiered in the Midnight Section of the Tribeca Film Festival and stars Lucas Neff, Caitlin Stasey, Chris Marquette, Stephanie Drake, Mark Moses and Abigail Breslin.
The film was digitally released in North America across all VOD platforms last week via Electric Entertainment.
Goonworks Films'Fantasia premiere The Unseen follows a man who is becoming invisible but must risk exposing his secret to rescue his kidnapped daughter. The sci-fi horror will make its Los Angeles premiere on Tuesday (October 25) at Screamfest.
Spotlight Pictures' line-up also includes sci-fi action Armageddon America, psychological thriller The Hive, which will screen at the AFM, post-apocalyptic sci-fi The Last Warriors, and action satire Espionage TV.