Dir: Theodore Melfi. US. 2014. 102mins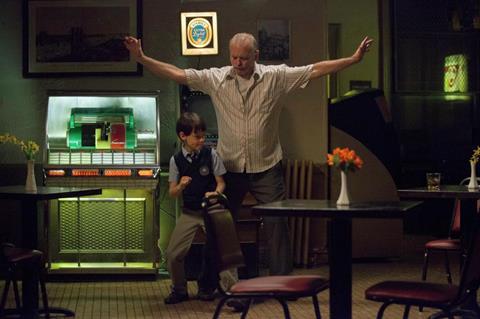 With St. Vincent, Bill Murray has achieved curmudgeon canonisation, but Theodore Melfi proves in his feature debut that resurrecting Archie Bunker in Sheepshead Bay could use a little help from God. The hymn to coarse geriatric idiosyncrasy in deep Brooklyn has a dream team cast that seems calculated to attract the whole family, yet St. Vincent's script never gets past the level of tired television laughs. Murray fans, and there are many, are likely to give the film a try, as is the audience for Melissa McCarthy, who tones down the bombast in the role of a single mom who moves in next door with her young son. Still, this Brooklyn tale earns a Bronx cheer.
Watts's performance, in larger doses, would have been the divine miracle needed to make St. Vincent work.
The film's story comes right off the retread shelf, echoing Bad Santa and Gran Torino in its depiction of a neighborhood grouch who, if you haven't guessed, turns out to have a heart of gold. Vincent is a Vietnam vet living and drinking in the same clothes every day in a working class neighborhood with his cat and car, when Maggie (McCarthy) and son Oliver (Jaeden Lieberher) rent the house one door away.
Slaving in a medical lab to put food on the table, boilerplate struggling mom McCarthy needs a baby sitter, a job that grumpy Murray performs for a stiff fee. He teaches young Oliver lots of lessons in rudeness and self-assertion, and a timid boy, bullied at his Catholic school, learns how to use his fists and face the world. It's Parenting 101 from an improbable source in the earnest comedy that tries too hard to warm your heart.
Melfi's warmed over script has another noble character who's a walking taboo in heels – Vincent's Russian girlfriend, Daka (Naomi Watts). Watts finds her inner funny lady as a pregnant prostitute who also dances in a strip club. Her improbable accent, which can turn weak lines into punch lines, makes the too few scenes in which Watts appears worth waiting for. Inside the spandex, of course, is another heart of gold. Watts's performance, in larger doses, would have been the divine miracle needed to make St. Vincent work. It is sure to fuel the VOD market.
As liberal Brother Geraghty, who brings cliches of open-minded tolerance to Oliver's Catholic school, Chris O'Dowd puts a gentle spin on the spoofing of political correctness, while the students in the brother's class ignore his teaching, robbing and brutalising the new boy.
Besides Watts's wild buffo energy, the discovery of St. Vincent is newcomer Jaeden Lieberher . Agents with better scripts than this one are sure to be contacting the young boy with composure and comic timing.
Production values in St. Vincent are typical for a commercial comedy. Production design looks like a few extra ashtrays and a longhaired white cat were added to the pro forma old guy's den. A favorite gag is to cut away, after a laugh line, to the scowling cat. The feline deserves sainthood for its honesty.
Production company: Chernin Entertainment
International sales: The Weinstein Company, Michael.Rothstein@weinsteinco.com
Producers: Peter Chernin, Jenno Topping, Theodore Melfi, Fred Roos
Co-producer: Ivana Lombardi
Executive producers: Bob Weinstein, Harvey Weinstein, Don Cheadle, G. Mac Brown
Screenplay: Theodore Melfi
Cinematography: John Lindley
Editor: Peter Teschner, Sarah Flack
Music: Theodore Shapiro
Production designer: Inbal Weinberg
Main cast: Bill Murray, Melissa McCarthy, Naomi Watts, Chris O'Dowd, Terrence Howard, Jaeden Lieberher