Battle For Brooklyn: a powerful film about my old neighborhood in crisis.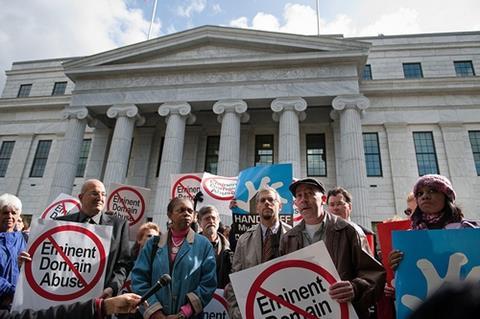 Over six years ago I was living in Prospect Heights, Brooklyn, when I found out I had to vacate myprizedapartment rental to make way for a new basketball stadium project. It so happened I was already moving to London within the month, but it was sad to know my old building on Vanderbilt Avenue – full of local character, great families who had been in the neighbourhood for decades, not to mention a unique painted advertisement for a now-defunct fried chicken restaurant – was headed for destruction.
Of course, some of my old neighbours didn't flee the country when the neighbourhood was under threat. And their stories are chronicled in a new documentary, Battle For Brooklyn, by Michael Galinsky and Suki Hawley (who I know from their earlier films including Half-Cocked, Radiation and Horns and Halos).
They spent eight years following residents and local business owners whose homes, jobs and lives were facing huge change to make way for the controversial Atlantic Yards project. It's a powerful look into the practice of eminent domain, which can take uproot families in favour of private developers. The story is told through the eyes of an unlikely activist, Daniel Goldstein, who was the last man standing in the footprint of the arena.
There will be a free screening of Battle For Brooklyn in local Fort Greene Park as part of Rooftop Films summer series on Thursday, June 9, and the film will open at New York's Cinema Village on June 17 and also show at the Brooklyn Film Festival at indieScreen on June 11.
Check out the trailer here.

Based in the UK.