X-wings, lightsabers and the fastest hunk of junk in the galaxy. Watch it here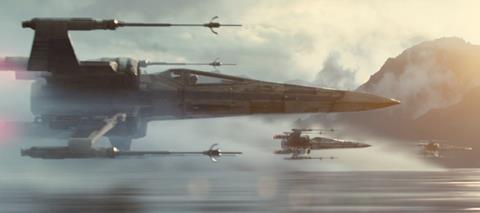 The first footage from Star Wars: The Force Awakens has been released, with glimpses of what fans have waited more than 30 years to see.
After what many deemed a disappointing trilogy of prequels, the series is returning with beloved spaceships like the Millennium Falcon, X-wings and Tie-Fighters as well as new characters played by British actors John Boyega and Daisy Ridley.
Set 30 years after the events of Return of the Jedi, the teaser opens with a shot of Luke Skywalker's home planet of Tatooine followed by an appearance from Boyega looking distressed in a stormtrooper's uniform.
Stars of the original series Harrison Ford, Mark Hamill and Carrie Fisher are set to return for the first instalment of the new trilogy. None are seen in this teaser but we can maybe assume that Han Solo, played by Ford, is piloting the Millennium Falcon, seen persued by Tie-Fighters near the end of the sneak peak.
Directed by JJ Abrams, Star Wars: The Force Awakens is set to be released on Dec 18, 2015.