Dir: Tom Shu-Yu Lin. China-Taiwan. 2012. 98mins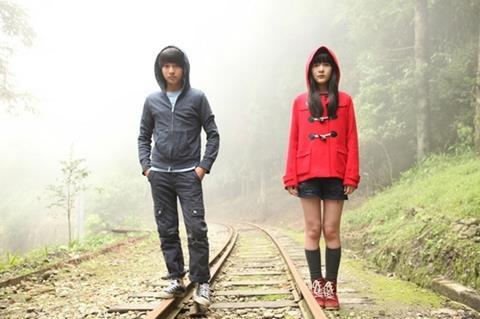 An imaginative, emotionally resonant coming-of-age story about two young kindred spirits who seek solace in one another, writer-director Tom Shu-Yu Lin's adaptation of Taiwanese author Jimmy Liao's bestselling illustrated book is swollen with genuine feeling. Showcasing the commingled frailty and toughness of adolescents, and the rich inner landscapes that exist apart from whatever tethering relationships they have with adults, Lin's sophomore effort represents a solid blend of technical achievement and kindhearted portraiture.
While not nearly as overtly comedic as something like Stephen Chow's CJ7, Starry Starry Night taps into the same sense of fantastical wonderment as that film.
Shot in Mandarin with a generous budget of $7 million, Starry Starry Night represents one of few recent Taiwan-China co-productions. It should do solid business in Eastern markets, and if given some time and proper care Stateside, where it releases in select AMC Theaters through a special partnership with distributor China Lion, it could find specialty market penetration, given its adolescent-runaway narrative echoes of indie summer hit Moonrise Kingdom, as well as its fetching fantastical elements.
Against the backdrop of her parents' bickering and divorce, and the death of her beloved grandfather (Kenneth Tsang), 13-year-old middle schooler and puzzle lover Mei (Josie Xu) strikes up deep bond with the new kid in town, Jay (Eric Lin Hui Ming). Tracked to and fro with his mother by an abusive father, sensitive Jay doodles in sketchbooks, and is an instant target of humiliation for other students. Lonely, adrift and misunderstood by those around them, Mei and Kay steal away in an effort to track down and visit her grandparents' house in the countryside.
Perhaps owing to the fact that he was born in Taiwan but raised and educated in the United States, director Lin exhibits an unfussy and intelligent touch beyond his years. He finds quiet, universal ways to impart joy, longing and heartache — the latter captured in the distancing third person of Mei's divorce conversation with her parents ("Mei's thirteen, Mei understands").
Working with cinematographer Jake Pollack, Lin also constructs a tender and gorgeous visual palette. Shiny surfaces of picture frames reflect, literally, happier times, while considerable CGI inclusions — including a bravura sequence of Vincent Van Gogh's "Starry Night" come to life — capture the buoyant invention of Liao's illustrations, and the especially active imaginations of those poised between childhood and the onset of pubescence.
The narrative beats are sometimes familiar, and its metaphorical underpinnings rather highlighted, but the movie's superlative inducement of whimsy ensures that its grip on one's attention and heart never significantly loosens. While not nearly as overtly comedic as something like Stephen Chow's CJ7, Starry Starry Night taps into the same sense of fantastical wonderment as that film, as well as the more melancholic tones of movies like Hirokazu Kore-eda's compassionate I Wish and Spike Jonze's Where The Wild Things Are.
The adolescent performances are charming and well modulated, and the musical compositions, mostly by World's End Girlfriend, are tenderly evocative.
Production companies: Huayi Brothers Media Corporation, Tomson International Entertainment, Franklincultural Creativity, Atom Cinema
Domestic distribution: China Lion
Producers: Wang Zhonglei, Liu Weijan, Wang Zhongjun, Albert Tong
Executive producer: Chen Kuofu
Screenplay: Tom Shu-Yu Lin, based on the illustrated book by Jimmy Liao
Cinematography: Jake Pollack
Production designer: Penny Tsai Pei-Ling
Editors: Xiao Yang, Cheng Hsiao-Tse
Music: World's End Girlfriend
Main cast: Josie Xu, Eric Lin Hui Ming, René Liu, Harlem Yu, Kenneth Tsang, Janel Tsai, Stone Mayday, Gwei Lun Mei