Sunday saw designs from Oz The Great and Powerful debuted at London Fashion Week.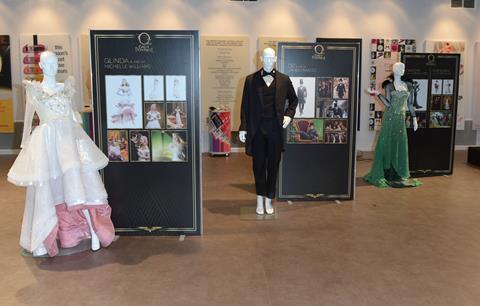 Selfridge's newest store location? The great Land of Oz, where munchkins can purchase stilettos based off of their hometown's celebrities.
London-based designer Nicholas Kirkwood [pictured], in collaboration with Selfridges and Disney, has created four shoes inspired by Oz The Great and Powerful, Sam Raimi's upcoming take on the much-loved tale
Kirkwood and the companies premiered the sketches at London Fashion Week on Sunday [Feb 17] among costumes worn by cast members James Franco, Michelle Williams and Rachel Weisz.
If you look up to Glinda, you will now be able to resemble the good witch with a sparkly white heel, or finish off your tux with a black-and-white zigzagged Oxford like the grand Wizard himself.
The designs are clearly paired with each character's personality: Theodora (Mila Kunis) has a tie-up kitten heel draped in black and blood red, while Evanora's (Weisz) is spider-like in design and accented by royal green.
Kirkwood isn't the only one to find the colours of Oz to be dazzling: OPI Nail Lacquers has created six news shades inspired by the film with the bottles available in March.
A few of the limited-editions colours were given away at the end of the show, and Don't Burst My Bubble is just as soft and pink as the clouds above Oz.
"This SoftShades collection captures the whimsy seen in the film, from glittery shades packed with white, gold and silvery iridescent confetti…to soft neutrals in white, beige and pink," said Suzi Weiss-Fischmann, OPI executive VP & artistic director.
The shoes will be available in Selfridge's from March 1 and can be awed at in one of their famous window displays as well.
Oz The Great and Powerful will have its European premiere at the Empire in Leicester Square at the end of February and will be playing in the UK from March 8.