Dirs: Richard Glatzer, Wash Westmoreland. US. 2014. 101mins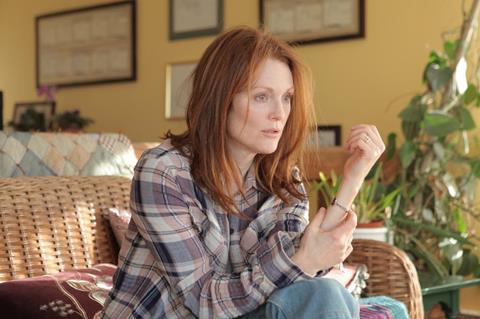 Offered as proof that there actually might be some things worse than death — or at least more heartbreaking — the exquisite Still Alice presents the sad story of Alice Howland, a brilliant linguistics professor decimated by early-onset Alzheimer's. A melodrama of substance, the new film from writer-directors Richard Glatzer and Wash Westmoreland (Quinceañera) is led by a precise performance from Julianne Moore, but the film is really an ensemble piece that looks closely at one family's struggles when its matriarch is alive but slowly losing herself piece by piece.
Tearjerkers get a bad rap because of how shamelessly manipulative they are, but Still Alice earns its tears by exploring emotional terrain with restraint and insight.
Still Alice premiered at the Toronto Film Festival and should be an art-house player thanks to a cast that also includes Alec Baldwin, Kristen Stewart and Kate Bosworth. Good reviews for Moore's performance will attract viewers, and readers of the source material (Lisa Genova's original novel) may be intrigued as well. Although there might be a concern that the subject will be too heavy for some audiences, the modest indie success of the low-budget Away From Her (also about Alzheimer's) suggests that discriminating crowds will be game.
Moore plays Alice, an author who lectures on linguistics and teaches at Columbia University as the film begins. But tragedy is about to intervene: Even though she's only 50, she notices that she keeps forgetting vital things, such as where she is when going for a jog through New York City, even though she's taken the route many times before. Soon after, she's diagnosed with early-onset Alzheimer's, being told by her doctor that the condition will only get worse. The bulk of the film concerns how she and her family, including her husband John (Baldwin) and daughters Lydia (Stewart) and Anna (Bosworth), cope with the news.
Preferring a spare, understated style, Glatzer and Westmoreland mostly let the inherent sadness of the situation speak for itself. (Occasionally, though, Ilan Eshkeri's score can become a little self-consciously frenetic, a clumsy attempt to echo Alice's panic at her worsening memory loss.) But despite the rare tonal lapses, the film does a remarkable job of homing in on the story's core terror: Alice is still physically well and could live a long life, but her essence — her mind, her memories and her spark — will soon disappear forever.
In the wrong hands, this is the stuff of disease-of-the-week sentimentality, but Still Alice stays away from that terrain by focusing less on the illness than on the emotional effects it has on all involved. Of course, the movie is most interested in Alice's reactions to her diagnosis, but no one in her immediate circle is immune to these changes. Baldwin is particularly good as an ambitious medical researcher who is losing not just his wife but also a woman who was as driven as he was. John shows plenty of compassion for Alice, but Baldwin also reveals the cracks in the husband's patience, powerless to bring back the woman he once knew, even though she's right there.
Still Alice is such a rich, well-observed piece that it even finds time to flesh out Alice's daughters. In the beginning, Anna is the favoured, successful child while Lydia is the disappointment floundering in a go-nowhere acting career out in Los Angeles. But once Alice's condition is spotted, the two daughters respond in different ways and for very specific, understandable reasons. With nuance, Bosworth and Stewart both play women who seem to have been profoundly shaped by their impressive mother, and we feel the characters' confusion at having her influence suddenly ripped away from them. (Stewart especially shines, initially playing a prototypical starving-artist type who surprises her family by her response to Alice's diagnosis.)
As for Moore, this is one of her most complete, layered performances. Almost 20 years ago, she starred in filmmaker Todd Haynes' Safe, a revelatory social parable-cum-psychological horror movie about a housewife seemingly allergic to the entire world. The more realistic Still Alice finds her again felled by an invisible malady — one just as frightening — and it's interesting to note her ability in both films to elicit our sympathy so easily. Expertly modulating her facial expressions as Alice becomes more childlike as her disease advances, Moore externalises the character's anger and fear, the sense that she can feel her mind going but can't reverse the damage. But at the same time, it's not an overly showy performance: There aren't a lot of for-you-consideration grand dramatic scenes, a modesty that makes Alice's slow descent all the more painful and human.
To be sure, some will find Still Alice too depressing, too mawkish or too insular to embrace. (Because the Howlands are a well-to-do family, it's inevitable that a criticism levelled against the film will be that it reeks of upper-class privilege.) But such complaints seem petty in the face of such a quiet, absorbing film. Tearjerkers get a bad rap because of how shamelessly manipulative they are, but Still Alice earns its tears by exploring emotional terrain with restraint and insight. This is a movie about a woman with Alzheimer's, but it's really about a family reassessing its bonds. And although none of the characters mentions death, this is one of the most poignant movies about mortality in quite a while: The Howlands are grieving for a person who isn't actually going anywhere, except in all the ways that really count.
Production companies: Lutzus-Brown, Killer Films
US sales: Creative Artists Agency, www.caa.com
International sales: Memento Films, www.memento-films.com
Producers: Lex Lutzus, James Brown, Pamela Koffler
Executive producers: Marie Savare, Christine Vachon, Maria Shriver, Emilie Georges, Nicholas Shumaker, Celine Rattray, Trudie Styler
Screenplay: Richard Glatzer and Wash Westmoreland, based on the book Still Alice by Lisa Genova
Cinematography: Denis Lenoir
Production designer: Tommaso Ortino
Editor: Nicolas Chaudeurge
Music: Ilan Eshkeri
Main cast: Julianne Moore, Kristen Stewart, Alec Baldwin, Kate Bosworth, Hunter Parrish