Dir: Frances Lea. UK. 2011. 94mins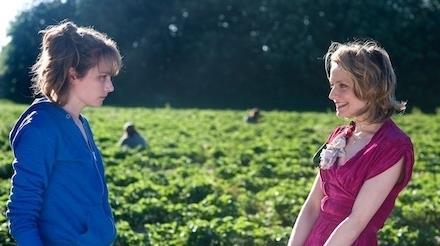 Long hot summers (a thing barely remembered here in the UK) and shrill, vibrant, sexual drama do tend to go hand-in-hand, and while Frances Lea's Strawberry Fields can never quite deliver when it comes to a needed dose of sweaty sexuality, it is fine as a quivering psychological drama as a pair of damaged sisters drive each other crazy while working as pickers at a strawberry farm.
The strawberry picking backdrop is appealing and the locations evocative.
This low-budget film is punctuated by nicely staged moments that make great use of the Kent backdrop of lush fields, coastal spots and rural idyll, and while the script is subtle enough the film is often played with too much quivering and quirky emotion to really convince.
According to Lea, the story is inspired by A Streetcar Named Desire (a bold statement indeed), but while it never quite reaches Tennessee Williams literary heights (or legendary performances) it does offer moments to intrigue despite never really convincing as a whole.
Jittery Gillian (Anna Madeley) cycles through the Kent countryside and stumbles across Rymans Farm, where they happen to be recruiting strawberry pickers. Offered work and put up in a caravan on the farm along with a bunch of other itinerant pickers, she begins a tentative relationship with hunky Scottish picker Kev (Emun Elliott), but things are soon ruined for her with the arrival of her high-maintenance sister Emily (Christine Bottomley), sporting a long red-dress and a 'look at me' attitude.
Gillian has been trying to escape her sister's manipulative behaviour, and her arrival both forces into an even more intense relationship with Kev and also responding angrily to any aside or comment by Emily. As Emily intensifies her attempts to control her sister the scene is set for sex and violence as Kev responds to Emily's machinations.
Christine Bottomley is impressive as the bonkers but attractive Emily (the Blanche DuBois role here), with a nice line in flowing summery dresses and a sustained edginess, though Anna Madeley has a harder role as the annoyingly childlike Gillian. It is the less showy role, but Madeley never manages to make her sympathetic or appealing.
The strawberry picking backdrop is appealing – despite the fact that these pickers never seem to work overly hard (it is back-breaking work after all) and have far too much time for fun in the sun – and the locations evocative, but despite having strong moments Strawberry Fields never quite sustains the psycho-drama it is striving for.
Production companies: Spring Pictures, Microwave, BBC Films, Film London, Screen East, Screen South
Producers: Liam Beatty, Lucie Wenigerova
Screenplay: Frances Lea, Judith Johnson
Cinematography: Dave Miller
Editor: Cinzia Baldessari
Production designer: John Bramble
Music: Bryony Afferson, James Stone
Main cast: Anna Madeley, Christine Bottomley, Emun Elliot, Jonathan Bonnici, Florence Bell, Jack Roth, Vanessa Babirye, Philip Martin Brown