SEPT 3 UPDATE EXCLUSIVE: The aggregated gross of Hollywood's summer exports has surpassed the freshly minted $4.7bn record North American session by at least 22%.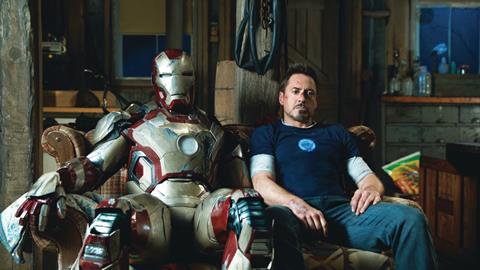 Data compiled by Screen International reveals that films distributed through the international pipelines of Disney, Warner Bros, Universal, Fox, Sony and Paramount plus Lionsgate's network of international licensees generated approximately $5.993bn from the May 1-Sept 2 period.
The number dwarfs Hollywood's domestic summer and is likely to be considerably higher factoring in unreported big titles licensed by the leading US sales agents.
While not exact in its calculation due to the provision of estimates at time of writing, the fact that many titles remain active and the ongoing reality of inconsistent reporting from select territories, the picture that follows illustrates the might of the international arena.
As previously reported here, consistently strong performances across the board and in particular in the new giants China and Russia have saved studio executive's blushes in cases where domestic box office faltered. Pacific Rim, After Earth and The Smurfs 2 flopped in North America, yet their corresponding international results have been impressive.
Walt Disney Studios Motion Pictures International finished the summer top of the class on a little over $1.5bn and boasts the biggest release of the year-to-date with Iron Man 3 on $805.7m.
Universal Pictures International (UPI) and Illumination Entertainment's Despicable Me 2 (the biggest animation of the year so far and Universal's most profitable film of all time on $805m and counting worldwide) and UPI's Fast & Furious 6 ranked as the second and third biggest films of the year-to-date.
Warner Bros Pictures International generated $1.264bn, followed by UPI on $1.25bn and Fox International on more than $635.1m.
Sony Pictures Releasing International's summer slate produced $626m, while Paramount Pictures International reported $586.5m mostly from two hits and Lionsgate International reported that its two films combined for $253.7m.
China is unquestionably the headline grabber and generated the two biggest single results from any territory this summer on $120.6m from Iron Man 3 and $108.6m from Pacific Rim.
Russia delivered rewards throughout the season as did an emerging tier of Latin American markets. The UK, major European markets, Australia, Japan, South Korea, Brazil and Mexico remained strong.
Walt Disney Studios Motion Pictures International
($1.5bn+)
Iron Man 3 $805.7m
China $120.6m, South Korea $64.3m, UK $57m. Russia $44.1m.
Monsters University $451.9m
Japan $87.4m, UK $43.6m, Mexico $38.2m. Russia $20.9m
The Lone Ranger $151m
Japan $20m, Russia $15.9m, Mexico $10.1m.
Planes $31.2m.
Warner Bros Pictures International
($1.264bn)
Man Of Steel $367m
China $63.1m, UK $46.5m, Australia $22.4m.
Pacific Rim $304.4m
China $108.6m, Russia $20.5m, South Korea $18m.
The Hangover Part III $248.2m
Germany $31m, UK $29.4m, Australia $20.3m.
The Great Gatsby $196m, The Conjuring $109.5m, We're The Millers $39.5m.
Universal Pictures International
($1.25bn+)
Fast & Furious 6 $548.8m
China $61.6m+, Japan $20m+.
Fast & Furious 6 made Fast & Furious Universal's highest grossing franchise, besting the record held by the Jurassic Park series.
Despicable Me 2 $470.5m
UK $68.2m, Mexico $39m+, Australia $30m+, Russia $28.8m.
Jurassic Park 3D $64.5m ($47.2m and counting in China after two weeks), R.I.P.D. $31.8m, Kick-Ass 2 $23.4m, The Purge $21.5m and Foosball $13.4m.
Fox International
($635.1m+)
The Wolverine $231.9m
Russia $21.9m; Brazil $21.4m; UK $20.7m.
The Wolverine became the biggest release in the X-Men franchise after it passed $225m set by X-Men: The Last Stand.
Epic $149.9m
UK $20.9m, Russia $14.7m, Germany $10.8m.
Percy Jackson: Sea Of Monsters $83.5m
France $10.4m, UK $9.5m, Brazil $8.9m.
Turbo $75.1m, The Heat $58.1m
Sony Pictures Releasing International
($626m+)
The Smurfs 2 $189.3m
Germany $17.8m, UK $16.7m, France $16.1m, Russia $12.3m.
After Earth $183.3m
China $33.9m, Russia $17m, Mexico $13.8m.
Elysium $97.7m
Russia $15.3m, France $10.3m, UK $9.2m.
Grown Ups 2 $72m, White House Down $65.8m, This Is The End $17.9m.
Paramount Pictures International
($586.5m+)
World War Z $331.6m
South Korea $33.7m, Russia $24.7m, Mexico $23.5m.
Star Trek Into The Darkness $234m
China $56.8m+, UK $39.4m+, Germany $20.6m+,
Pain And Gain $20.9m.
Lionsgate International
($253.7m+)
Now You See Me $192m
France $21.8m+, Russia $21.3+, UK $16.6m+.
Red 2 $62m
South Korea $19.3m+, Russia $7.5m+, UK $4.4m+.