EXCLUSIVE: Alejandro Fernández Almendras, whose Much Ado About Nothing plays in the World Cinema Dramatic section on Monday, said he feels he has no choice but to leave Chile to pursue his career "as a matter of survival."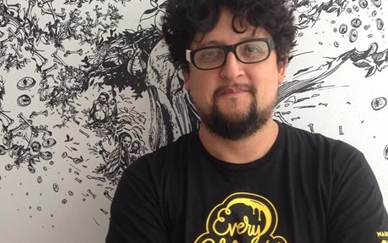 The outspoken former financial journalist and winner of the Sundance 2014 World Cinema Dramatic grand jury prize for To Kill A Man cited what he described as a lack of adequate support from the Chilean Film Fund.
"On the one hand the system to finance films in Chile depends almost exclusively on the Chilean Film Fund that have only one open call every year and whose jury is composed almost entirely of old school filmmakers, many of whom haven't made a film in decades," Almendras told Screendaily.
"They answer to their own agenda, which is completely removed from anything going on in the international film market."
Almendras and producer Augusto Matte pieced together a financing patchwork for his social injustice drama Much Ado About Nothing that included credit cards, Kickstarter, private investment, French and Swiss public funds and support from Chile's sole public bank, Banco Estado.
The 44-year-old said the Chilean Film Fund declined to contribute, even when Much Ado About Nothing had been accepted into Sundance and Berlin, where it screens next month.
Chile's directors' guild, he claims, has attempted to silence his public advocacy of a move away from government handouts to "different viable business models" and he says he has been fired from teaching at film schools because he took time off to shoot his films.
"So, as you can see, if I have to think about my kids, the chances of me surviving in Chile are not great. My confrontational and non-conformist style are not really appreciated in Chile."

Almendras plans to work in the US and has lined up "a comedy of sorts" in the vein of the Coen Brothers called Three Broken Men set against the backdrop of the drug trade in the US and Mexico. The plan is to shoot later this year in Los Angeles and Arizona with the same crew from Much Ado About Nothing.
He also plans to make a sci-fi called The Gray Beyond that will be in English, Spanish, Japanese and Kaweskar, a lost tongue of Patagonia. The Patgonia-set story takes place is set in 2045 when A.I. has taken over the world.
"My ideal career would be to work in mainstream cinema in the US, making commercial films that are both fun but also play with a lot of ideas to think and talk about.

"I would love to make films in Chile too, but I think it would be more and more difficult given the hardships that we faced with Much Ado and the indifference of the official financing authorities."
Constanza Arena, executive director of promotional agency Cinema Chile, said while Almendras was "a very talented director" he was not the only one who has not received funding for his films.
"It is a very tough competition and every year there are more and more directors (young as well as experienced) applying for the same amount of money available in the funds," said Arena.