Agnieszka Smoczynska had already collaborated with screenwriter Robert Bolesto on her short films but the impetus for her trippy $1.6m (€1.5m) feature debut came as a surprise.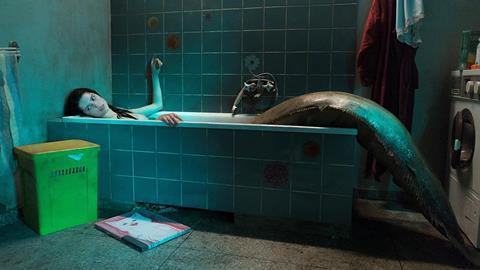 Bolesto told her about an idea he had, inspired by two of his friends who grew up in and around a 1980s nightclub. It resonated with Smoczynska.
"I was amazed when I heard this because my mom used to run two such clubs/restaurants and I grew up observing very closely this type of environment," says the Polish director. "That was my kind of playground, full of erotica, vodka and sadness."
Inspired by Bolesto's friends Zuzia and Basia Wronski, Smoczynska devised a vaudevillian allegory about emerging womanhood influenced by Homer and Hans Christian Andersen's The Little Mermaid.
The Lure follows a pair of mermaids who establish residency at a nightclub and bewitch the clientele with their singing voices.
Newcomers Marta Mazurek and Michalina Olszanska play the sirens Silver and Golden, performing songs written by the Wronski sisters.
Smoczynska, a graduate of the Krzysztof Kieslowski Faculty of Radio and Television and Andrzej Wajda's Master School of Film Directing in Warsaw, shot in a former hotspot in Warsaw called Adria.
Funding came from the Polish Film Institute, Polish Television, Platige Films, distributor Kino Swiat and producer WFDiF.
Painter Aleksandra Waliszewska came up with the fauvist set design and colour palette. "Aleksandra's paintings are full of perverse fabulousness for adults," says the director, "where blood and brutality interfere with innocence and lyricism."