Dirs: Logan Miller, Noah Miller. US. 2012. 93mins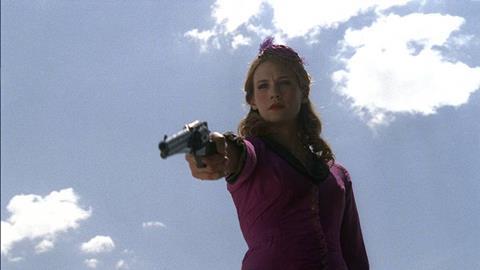 Sweetwater is a rape-revenge tale set in an 1890s New Mexico town where a zealot preacher with a black beard and coat has his eyes on power. If that weren't timely enough for the US, the rape that's avenged is presented as legitimate - committed in the name of God.
The tone in Sweetwater is as heavy as that firepower , and the film can feel like stiff medicine.
Given the parallels in Sweetwater to the issues debated in the 2012 US presidential election, last year might have been an opportune time to release this attack on theocracy. Yet dark evangelicalism and a cast with Ed Harris and January Jones could bring attention to this moralising Western.
So could firearms, although the merciless use of guns in a tortured woman's frontier revenge insurgency may complicate marketing Sweetwater to a well-meaning liberal audience that endorses most of the movie's sentiments. The filmmakers should be praying for Django fever to help them.
Framed by rugged mountains, Sweetwater is a battleground of a town where the eccentric Sheriff Jackson (Harris) likes to dance alone in the open air. Sarah (Jones), a stoic daughter of a prostitute named Madame Bovary (Amy Madigan, who also happen to be Mrs. Ed Harris), farms quietly with her husband Miguel (Eduardo Noriega). Brother Josiah (Jason Isaacs) roams "God's territory" on horseback, killing perceived interlopers and sinners and forcing his churchwomen into sex. A Mexican, for Josiah, is even more despicable than a woman who marries one.
As Josiah's noose on the town tightens and bodies pile up, his holy war turns against Sweetwater's last independent woman. The script by Logan and Noah Miller melds Old Testament absolutism with spaghetti Western rawness.
Sweetwater isn't a work of subtlety. Isaacs plays Josiah as a one-dimensional tyrant, as undifferentiated as his long coat is black. Attracted to the one woman who resists him, his foreplay is slugging her before he rapes her. Her counter-attack is total war – 1970s style — shooting with any barrel available. No surprise, the Millers present Josiah's defeat as anything but martyrdom.
Still, humour seeps in. Harris, a live-and-let-live free spirit in the desert landscape, has the scarecrow hair
of the 1980s Michael Bolton. His dancing reminds you of a Grateful Dead concert. His quirky crime investigations seem inspired by Peter Falk in Columbo.
Jones, as Sarah, barely cracks a smile, but when she tries on a purple dress – a clear gesture of contempt toward the local moral enforcer – the merchant selling the garment who peeks at her through a peephole gets her umbrella in his eye. Soon enough, in an homage to Tarantino, he'll get a bullet in another orifice.
Like a huge bull ring, the mountains in the distance enclose Sweetwater's duel between good and evil. Quoting There Will Be Blood, cinematograppher Brad Field tries to energise soliloquies and close-ups by silhouetting characters against the vast Western sky. But the landscape is also grimly tactile - it is the sand and slime in which Josiah's victims crawl before he finishes them off, with numbing repetition. The preacher even smears a wrongdoer with sheep dung. As with its weapons, the script turns the Biblical "dust to dust" dictum on its villains.
The tone in Sweetwater is as heavy as that firepower , and the film can feel like stiff medicine. The Millers are searching for iconic drama that is as grand as the iconic conflicts in their script. What they got is stagy melodrama with a message.
Production companies: Raindance Entertainment, L.P. , Mythic International Entertainment, Atlas International Film GmbH, ARC Entertainment, Kickstart Productions
International sales: Atlas International, www.atlasfilm.com
Producer: Jason Netter
Executive producers: Trevor Drinkwater, Tucker Moore, Steve Bannon
Screenplay: Logan Miller, Noah Miller, Andrew McKenzie, based on a story by Andrew McKenzie
Cinematography: Brad Shield
Main Cast: Ed Harris, January Jones, Jason Isaacs, Eduardo Noriega, Jason Aldean, Stephen Root, Amy Madigan