Dir: Miguel Gomes. Portugal-Germany-Brazil-France. 2012. 110mins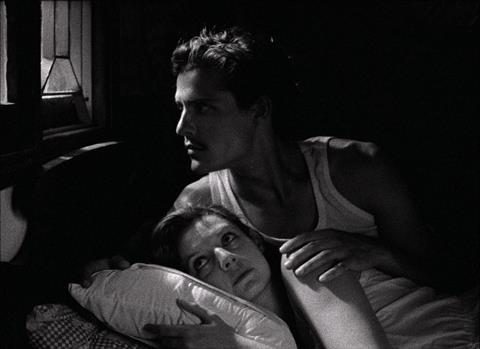 Portuguese director Miguel Gomes spins out story webs that stretch from modern-day Lisbon to an un-named African colony of 50 years ago in the redolent black-and-white Tabu (a nod in part to Murnau whose 1931 film bore the same name and chapter headings). Inventive, appealing and idiosyncratic, Tabu's flickering monochromatic images accompanied by a tinkling piano in even its opening preamble can't help but call to mind The Artist and other recent film homages, but Miguel Gomes is very much his own artist, and Tabu a decidedly unusual film.
Accentuated by the odd flash of unexpectedly deadpan humour that helps keep the action off-kilter.
With its offbeat structure, and split story threads, Tabu will require some critical endorsement, but its whimsical flights of fancy should help it into strong art-house sales and the festival circuit. Despite a silent second half (apart from a voiceover narration) shot in glowing 16mm, Tabu still is a modern and accessible piece that underlines Gomes' growing reputation.
Accentuated by the odd flash of unexpectedly deadpan humour that helps keep the action off-kilter, Tabu's opening preamble appealingly introduces a "sad and melancholic crocodile" before the action shifts to modern-day Lisbon and a chapter called 'A Lost Paradise' (this is a reverse of Murnau's order and is again sub-divided into the days between Christmas and New Year).
Here Pilar (Madruga), swimming solo into late-middle-age, is preoccupied with the fate of her unpredictable octogenarian neighbour Aurora (Soveral) and Santa, her Cape Verdean maid (Pedro Costa favourite Cardoso). Apart from the odd candle-lit vigil and cinema dates with an artist friend, Pilar has little to occupy her now that a Polish lodger has cancelled her stay.
Pilar rescues Aurora after she has gambled away all of her money in a casino and this strange old lady relates odd dreams about monkeys as Gomes' camera insistently circles her. Cared for by Santa with little or no contact from her absentee daughter, Aurora is becoming increasingly unhinged, alternatively asking for more medication and claiming she is being held prisoner by the implacable Santa.
In Gomes' jigsaw-like set-up, which often shoots out distractedly into scenes such as Santa's adult literacy class, Aurora claims to have blood on her hands and, as the New Year arrives, begs for contact with a man called Gianluca Ventura (Espirito Santo). His introduction surprisingly shifts Tabu to a chapter entitled "Paradise" and a Mozambique-like country (the film was shot near the border with Malawi) where, we are told, "world famous big game hunter" Aurora (Moreira) had a farm, a tea plantation.
Now silent, the rest of Tabu's action is narrated by Espirito Santo and shot in16mm, interspersed with the occasional Phil Spector song. Although time and word-of-mouth will lessen the surprise of the film's tonal and geographical shift, what follows is an atmospheric depiction of the end of Portugal's colonial adventures - servants standing dutifully by as a pregnant Aurora embarks on an affair with the young Gianluca (Cotta).
Former critic Gomes, whose last film Our Beloved Month of August screened at Cannes in Director's Fortnight (2008) before a solid arthouse run, has possibly thrown in too many stylistic salutes - silent, 35-to-16mm, black and white, (too many) chapter headings, etc.
But his ambition and inventiveness more than compensate. Of particular note are Tabu's exceptional locales, from a Lisbon still festooned with Christmas decorations, to a pool party that resonates both the 60s and tropical colonial decay. The crocodiles, both big and small, keep a beady eye on proceedings.
Production company: O Som e a Furia
International sales: The Match Factory, www.the-match-factory.com
Producer: Luis Urbano
Screenplay: Miguel Gomes, Mariana Ricardo
Cinematography: Rui Pocas
Editors: Telmo Churro, Miguel Gomes
Main cast: Teresa Madruga, Laura Soveral, Ana Moreira, Henrique Espirito Santo, Carloto Cotta, Isabel Cardoso, Ivo Muller, Manuel Mesquita