Dir/scr: Sarah Polley. Canada. 2011. 116mins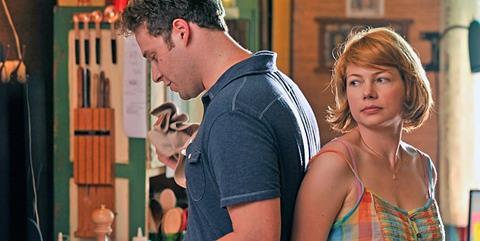 A bittersweet tale of a young woman in love with her playful husband, yet tantalised by a new lover, Sarah Polley's Take This Waltz is not as mature as her auspicious debut Away From Her. But the film is still a worthy second effort, continuing the actress-turned-director's sensitive investigation into the endurance - and limits - of love over time.
Polley does an admirable job of mixing humor with psychological turmoil.
The quirky indie comic drama seems destined for a Sundance Film Festival launch in the US, followed by moderate art-house business in the states and overseas, driven by its recognisable cast (namely, stars Michelle Williams and Seth Rogen), likeable performances, and charming set-pieces.
When the slightly offbeat Margot (Williams) meets fellow plane passenger Daniel (Luke Kirby) on route back home to Toronto, these two attractive twentysomethings appear destined for romance. After they quickly learn they live on the same street, the deal seems all but sealed. But Margot is a happily married woman of five years, and therein lies the conflict that
Polley wants to explore: Will Margot be happiest staying with her husband (Rogen), a fun-loving cookbook writer who makes her laugh, or with the darker Daniel, a seductive rickshaw-driving, bohemian-minded artist?
While the premise might sound simplistic, Polley digs deep into the scenario, slowing building up a platonic entanglement between Margot and Daniel - most notably in a kind of sex scene, only enacted with words - and yet keeping her protagonist "in between things", a state the character admits early in the film is what she fears most.
Despite a script that spells out Margot's condition a little too explicitly, at times, Williams, as always, brings a freshness and naturalism to the role. As a woman who is confused, unsure of herself and what she wants, the actress is able to express nearly every bit of internal chaos without a word of dialogue. And the film excels in its silent moments, resting on Williams's visage, which effortlessly passes from pure joy to profound anxiety in seconds.
If Take This Waltz supposedly marks the first serious dramatic turn for Rogen, famous for his funny-guy roles in Superbad and Knocked Up, the teddy-bear-ish actor works best as a comic foil, with his affable character Lou lightening up the proceedings with practical jokes and physical comedy. Likewise, as Lou's sister, comedian Sarah Silverman, even though playing a recovering alcoholic, does a funny Sarah Silverman.
Polley does an admirable job of mixing humor with psychological turmoil. In one hilarious sequence, Margot and friends take a swimming pool jazzercise class, which comes across almost like a skit from Saturday Night Live, even climaxing with 'pee' in the pool. But then the scene ends with a poignant comparison of women's naked bodies in the showers (including Williams and Silverman's) which powerfully brings home one of Polley¹s central themes: everything, at some point, gets old.
Similarly, late in the film, a silly prank that Rogen's Lou has been playing throughout the film pays off with surprising poignancy.
Unfortunately, an extended clumsily handled conclusion undermines these delicate tensions; where Take This Waltz should have ceased its dance of indecision, it keeps going. In some ways, however, the wonderfully bravura last shot - in which Margot, now alone, riding an amusement-park ride of rotating cups, with the song Video Killed the Radio Star pumping on the soundtrack - makes up for the misstep.
As a visual filmmaker, Polley's Toronto hometown has been never depicted with so much golden light. With all the warm hues and gleaming sunshine, you might think the Canadian city was right next door to the Bahamas.


Production companies: Joe's Daughter Inc.
International sales: TF1 International
Producers: Susan Cavan, Sarah Polley
Cinematography: Luc Montpellier
Production Designer: Matthew Davies
Editor: Christopher Donaldson
Music: Jonathan Goldsmith
Main cast: Michelle Williams, Seth Rogen, Luke Kirby, Sarah Silverman