Dir: John Luessenhop. US. 2010. 106mins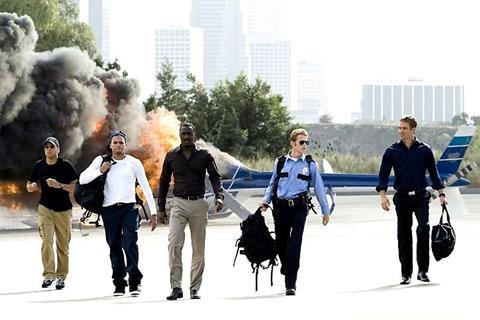 Much like the film's nattily dressed characters, the heist thriller Takers may not always smoothly execute its caper, but it sure looks good in the process. Leaning very heavily on style and attitude, the film won't win a single point for originality, but director John Luessenhop keeps the action rolling along at a steady clip, pillaging from Heat and Ocean's Eleven in the process.
The filmmaker's confident, overindulgent flourishes lend Takers a swagger that matches its tough-talking protagonists.
A collection of medium-visibility stars (including Paul Walker and Matt Dillon) will help Taker, but audiences may be drawn in just as much by the familiarity of the heist-gone-wrong narrative. With summer movie season rapidly fading, Takers will benefit from a lack of competing crime-dramas at the box office, although ancillaries may ultimately prove more potent.
A team of high-rolling Los Angeles bank robbers (led by Idris Elba and Paul Walker) run into Ghost (Tip "T.I." Harris), a former associate recently let out of prison who has a tip about a lucrative score. Though unsure if they can trust Ghost, the team decide to carry out the heist, all the while pursued by a dogged detective (Matt Dillon).
Getting off on its impeccable suits, high-sheen cinematography and upscale downtown L.A. locations, Takers opts to distract audiences from its narrative conventionality by emphasising the endless cool of its milieu. And while Luessenhop certainly overdoes his stylistic gambits – including extended slo-mo gun-fight sequences and scenes of the gang hitting the town that resemble high-end vodka commercials – the filmmaker's confident, overindulgent flourishes lend Takers a swagger that matches its tough-talking protagonists.
Admittedly, the screenplay, credited to four writers including Luessenhop, doesn't break much new ground, doling out the usual cops-and-robbers intrigue, intricate crime schemes, and stock characters that genre fans will know by heart. But although some in the cast don't have the chops to play such seasoned criminals, the best elevate their stereotypical roles through the sheer force of their personality.
As the gritty cop, Dillon projects an effortless urgency that suggests his character's unhappy life and unwavering resilience. And Elba convinces as the robbers' soulful kingpin, particularly in his interactions with his drug-addicted sister, played by Marianne Jean-Baptiste. Takers may not invest much in its characters' emotional arcs, but thankfully some of the actors do.
Production companies: Rainforest Films, Grand Hustle Films
Domestic distribution: Screen Gems, www.sonypictures.com
International distribution: Sony Pictures International, www.sonypictures.net
Producers: Will Packer, Tip "T.I." Harris, Jason Geter
Executive producers: Glenn S. Gainor, Gabriel Casseus, Chris Brown, Morris Chestnut
Screenplay: Peter Allen, Gabriel Casseus, John Luessenhop, Avery Duff
Cinematography: Michael Barrett
Production designer: Jon Gary Steele
Editor: Armen Minasian
Music: Paul Haslinger
Website: www.whoarethetakers.com
Main cast: Chris Brown, Hayden Christensen, Matt Dillon, Michael Ealy, Idris Elba, Steve Harris, Tip "T.I." Harris, Jay Hernandez, Johnathon Schaech, Paul Walker