Dir: Nick Broomfield. US-UK. 2014. 109mins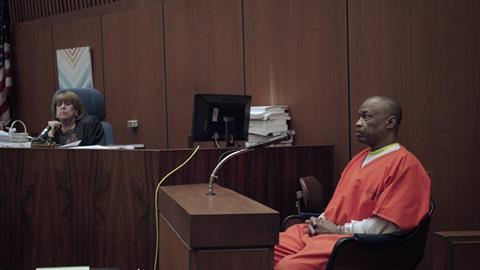 In Nick Broomfield's documentaries, the central subject matter doesn't always prove as interesting as the fascinating subcultures he discovers while investigating them. To a point, that proves true again with the director's latest, Tales Of The Grim Sleeper. Ostensibly chronicling a serial killer who murdered women for 25 years in Los Angeles, the film ends up becoming a sad portrait of an African-American community essentially left to fend for itself in one of the poorest, most dangerous areas in one of America's richest cities.
As with most Broomfield productions, Grim Sleeper has a ragged, verité quality, the director often lugging his own boom mic as he gets impromptu interviews on the street.
Making the fall festival rounds, Tales Of The Grim Sleeper could be a theatrical prospect thanks to Broomfield's track record for making films about controversial or scandalous subjects. (He previously directed Kurt And Courtney and Aileen Wuornos: The Selling Of A Serial Killer.) Additionally, his new film might attract significant interest in the United States, especially Los Angeles, because of the location and luridness of these crimes.
Tales Of The Grim Sleeper begins as Lonnie Franklin Jr., an African-American man living in South Los Angeles (which was formerly known, infamously, as South Central Los Angeles), is arrested in 2010. He is suspected of being the "Grim Sleeper," a serial killer who had murdered women (many of them prostitutes) in his impoverished, crime-ridden, heavily black L.A. neighbourhood. As is typical in Broomfield's films, the director inserts himself into the story, narrating his progress as he and a skeleton crew travel around the community interviewing people who knew Franklin or his son Chris, who is reluctant to grant an interview.
Broomfield's documentary is interested in getting a sense of who Franklin was, but as the film rolls along, what emerges is less of a portrait of this suspected murderer and more of a look at a community in peril. Grim Sleeper's on-camera interviews include former and current drug addicts and hookers, to say nothing of people struggling with homelessness or relating their memories of seeing dead bodies dumped in back alleys near their home. (Ominously, one interview is cut short when Broomfield's crew hears gunshots in the distance.)
For years in hip-hop, gangster rap documented (and sometimes romanticised) the crime, drug abuse and police brutality that ravaged South Central, and Grim Sleeper makes the case that such musical commentary, which began to become popular thanks to acts like N.W.A. and Ice-T in the late 1980s, remains relevant. Wherever Broomfield's camera wanders, it finds black men and women in South Los Angeles who feel powerless, frightened about crime but also cynical about a racist police force they feel has turned its back on them, treating all blacks as potential criminals.
In past Broomfield films, his desire to seek out eccentric, kooky characters has sometimes derailed his larger points. But in Grim Sleeper, he manages to balance between the specific story — we get a sense that Franklin was a troubled, sadistic man who came to hate women and considered himself a champion for cleaning up the streets — and his larger social critique. With welcome restraint, the filmmaker avoids grandstanding, letting his subjects' anger and desperation speak for itself. (And his encounters with heretofore unknown survivors of encounters with the Grim Sleeper are especially affecting, the audience quickly identifying with these women's terror.)
As with most Broomfield productions, Grim Sleeper has a ragged, verité quality, the director often lugging his own boom mic as he gets impromptu interviews on the street. This tendency, interspersed with archival television footage and more properly lit and staged interviews, often makes Broomfield's films feel less than definitive — more like his particular, quirky take on a well-known subject. But there's a real depth of feeling to Grim Sleeper that hasn't always been evident in his past work. It's clear that while he went looking for the secrets to a murderer's personality, he walked away with a sadness for a community at the mercy of much more than just one dangerous serial killer.
Production company: Sky Atlantic
International sales: Submarine Entertainment, Josh Braun, josh@submarine.com
Producer: Marc Hoeferlin
Executive producers: Celia Taylor, Charles Finch, Shani Hinton
Cinematography: Barney Broomfield
Editors: Joe Bini, Marc Hoeferlin
Music: H. Scott Salinas