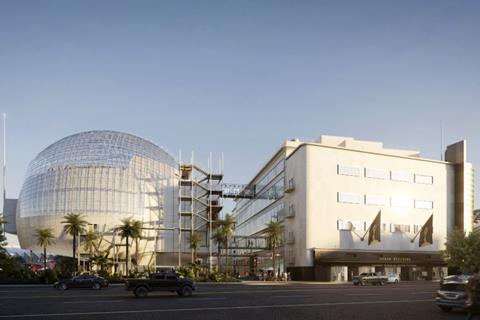 Netflix co-CEO Ted Sarandos has been named chair of the Academy Museum board of trustees in the wake of embattled former studio head Ron Meyer's exit from the role last month.
Sarandos most recently served as vice-chair and stepped in as acting chair last month after Meyer quit the Academy Museum and his post as NBCUniversal vice-chairman after reports involving an affair.
Following the board meeting today (September 15) Miky Lee has been named vice-chair, Paramount CEO and chairman Jim Gianopulos treasurer, and Kimberly Steward has been re-elected secretary.
After reports of funding difficulties, and delays exacerbated by the pandemic, the Academy Museum is scheduled to open on April 30, 2021.
The full list of the Academy Museum's board is as follows: Ted Sarandos, chair; Miky Lee, vice-chair; Kimberly Steward, secretary; Jim Gianopulos, treasurer; Patricia S. Bellinger, Jason Blum, Arnaud Boetsch, Olivier de Givenchy, Laura Dern, David Dolby, Sidonie Seydoux Dumas, Ray Halbritter, Tom Hanks, Dawn Hudson, Ryan Murphy, Isis Mussenden, Katherine Oliver, Alejandro Ramírez Magaña, Dominic Ng, David Rubin, Regina K. Scully, Emma Thomas, Diane von Furstenberg, and Kevin Yeaman.
Architect Renzo Piano designed the Museum, a restoration of the Saban Building in the Miracle Mile district of central Los Angeles.
The Saban Building will feature six floors, including exhibition spaces, the 288-seat Ted Mann Theater, the Shirley Temple Education Studio, special event spaces, conservation areas, a café, and store.
A new spherical structure under construction will connect to the Saban Building via glass bridges and will feature the 1,000-seat David Geffen Theater and the rooftop Dolby Family Terrace.