Dir: Mads Matthiesen. Denmark. 2012. 93mins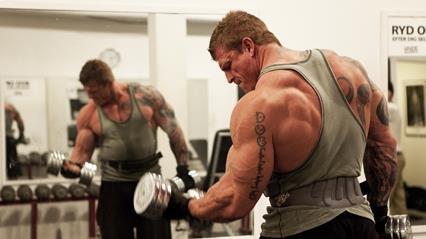 Teddy Bear is a view of the love life of a gentle giant who can lift weights but can't carry a conversation. Can he bring back real love from Thailand, where Danish men journey for low-priced exotic sex and shop for wives?
Matthieson seems to be seeking a deadpan alternative to confected modulations of conventional cinema, with non-professional actors in most roles.
Mads Matthiesen's minimalist unadorned romance meditates on brooding solitude with a glacial pace and a lifeless palette. Its austere production design, even on location amid sun and sex in Thailand, could get attention for its stark purity. So could the novelty of a Conan-sized muscled loner without Arnold's panache or Shrek's bumbling wit. Festivals will show this tale, but theatrical exposure outside of Thailand and Scandinavia is likely to be sparse.
We meet bodybuilding hulk Dennis Petersen (Kim Kold) as he struggles to talk to a date whom he's met at the gym. Back at home, his fragile forbidding mother keeps him on a choking leash in a tiny house. Dennis is terrified of her, and in the silence of this film, we can't help but feel his pain as she clings to him.
When an awkward uncle returns from Thailand with a pretty bride, Dennis senses a way out. His pilgrimage takes him to Thailand's brothel culture in the resort city of Pattaya, and back to the greyness of his homeland.
Kim Kold, a real body-builder who plays Dennis, is a warm hulk who fills the screen, literally. Because of his size, it's hard to take your eyes off him. The tattooed giant is an ideal metaphor for the loner who can't fit in either in Denmark, filmed in dull monotony, or in Thailand, where he turns down the pleasures of sex with girls one-third his size.
The surrealism of those dramatic juxtapositions are the stuff of large-format still photography - a staple of the art gallery scene - and the film's feature length maximizes the discomfort of Dennis's isolation in many long spells of stillness. Teddy Bear began as an 18-minute short film, Dennis, by director Mads Matthiesen, which explored the chilling mother-son bond and a humiliating post-date drink with women who coax Denis into removing his shirt.
In Teddy Bear, Matthiesen moves the longer narrative ahead at a deliberate slog, without a laugh on the journey to Thailand and back by the saddest giant in Denmark. Are body-builders new additions to the list of physically-challenged people at whom it's wrong to laugh? (Not knowing Danish, this critic couldn't judge any subtleties in the original language, although much of the dialogue is in English.)
Both mother (Elsebeth Steentoft) and new girlfriend Toi (Lamaiporn Sangmanee Hougaard), who manages a local gym in Thailand, join the pokerfaced march. In Teddy Bear, love doesn't have to come with thunderbolts.
Matthieson seems to be seeking a deadpan alternative to confected modulations of conventional cinema, with non-professional actors in most roles and a sense of the passage of time that hasn't undergone commercial compression. Matthiesen's ability to make his film stand still might earn the envy of Bruno Dumont, a specialist in the cinematic muteness of non-professionals.
Audiences sitting through this exercise in academic purity might wonder whether the joke is on them.
Production companies: SF Film, Beofilm
International Sales: Visit Films, www.visitfilms.com
Producer: Morten Kejms Juhl
Executive Producers: Birgitte Skov, Karoline Leth, Morten Frederiksen, Michael Fleischer
Screenplay: Mads Matthiesen, Martin Zandvliet
Cinematography: Laust Trier Mork
Editor: Adam Nielsen
Production Designer: Thomas Bremer
Music: Sune Martin
Main Cast: Kim Kold, Elsebeth Steentoft, Lamaiporn Sangmanee Hougaard, David Winters, Sukunya Mongkol, Jonathan Winters, Allan Mogensen, Sukianya Suwan