Dirs: Shari Springer Berman, Robert Pulcini. US. 2015. 107mins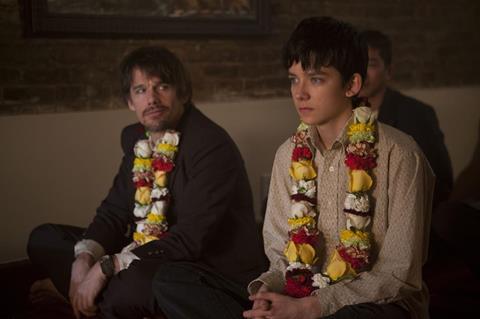 A coming-of-age tale, a teen pregnancy drama, a dysfunctional family comedy, and a story about grieving all come together — although not effectively — in Ten Thousand Saints, which boasts a strong cast but not enough focus. The latest from directors Shari Springer Berman and Robert Pulcini is full of feeling, following an unhappy Vermont lad as he makes peace with his estranged father and copes with the loss of his best friend. But, strangely, Ten Thousand Saints never quite connects, only occasionally being as moving or funny as its subject matter would suggest.
Ten Thousand Saints builds to an understated final moment of wistfulness, but one wishes the moments along the way had been better to really earn that ending.
Premiering at the Sundance Film Festival, where the directors' American Splendor won the Grand Jury Prize in 2003, Ten Thousand Saints features Ethan Hawke, Asa Butterfield, Hailee Steinfeld, Emily Mortimer and Emile Hirsch, who could all help attract different audiences to this comedy-drama. Fans of Eleanor Henderson's 2011 novel may also be intrigued by this adaptation, which chronicles (among other things) the punk movement and AIDS epidemic in New York of the late 1980s. Still, expect only modest returns from speciality markets for this so-so offering.
The film stars Butterfield as Jude, a directionless Vermont teen angry with his pothead father Les (Hawke) for abandoning the family years earlier and moving to New York City. Spending much of his time getting high and hanging out with his goofball friend Teddy (Avan Jogia), Jude is taken aback when Eliza (Steinfeld), the assertive, confident daughter of his dad's current girlfriend Diane (Mortimer), comes to visit, hooking up with Teddy in the bathroom of a party. Later that night, though, Teddy dies from exposure to the cold, leaving Jude reeling and later causing a panic for Eliza when she discovers she's pregnant.
Springer Berman and Pulcini tackle an ambitious amount of characters and themes in Ten Thousand Saints. Balancing the demands of six major players — including Hirsch as Teddy's New York punk-rock older brother Johnny, and Julianne Nicholson as Jude's mom Harriet — the movie is also haunted by Teddy's death, which has a major impact on the story. (Eliza wants to keep the baby, but for Jude and Johnny the unborn child also represents a way of continuing to preserve Teddy's memory.) But in addition, the film wants to wrestle with issues of family, the social and political upheaval of New York in the 1980s, and living with adoption. (Jude learns at an early age that Les and Harriet aren't his birth parents. And there are discussions throughout Ten Thousand Saints about giving up Eliza's unborn child for adoption since she's so young.)
This is a lot to juggle, and as a result the movie only sporadically engages. There are simply too many balls in the air, including Johnny's impetuous decision to marry Eliza, which saddens Jude, who has fallen for her. Perhaps as a novel these different plot strands could cohere into a satisfying whole, but on screen they feel malnourished and underdeveloped, leaving us with a plethora of incidents and not enough of a sense of how characters are reacting to the events around them.
This said, many of the performances have a gracefulness that mitigates the stretched-thin narrative. After Boyhood and Before Midnight, Hawke needn't prove to anyone that he's adept at playing conflicted, complicated, basically decent fathers, but in Ten Thousand Saints he essays yet another of these characters, conveying Les' immaturity as well as his penchant for doing the right thing when the moment requires. In perhaps her most adult role, Steinfeld shows off a sexiness and vulnerability that's enormously appealing. And Mortimer and Nicholson do good work as Les' two very different love interests — one, prim and proper, while the other is earthy and sarcastic.
But Ten Thousand Saints misses out on an emotional anchor because of Butterfield's mediocre portrayal of Jude. The soft-spoken centre of the film, Jude comes out of his shell, first by visiting New York, then by befriending Johnny, who gets him involved in the city's straight-edge punk scene. But it's not a very dynamic or empathetic performance, which makes it hard to root for him to win over Eliza — or to feel much sorrow when it seems that she will choose the dispassionate Johnny instead. Ten Thousand Saints builds to an understated final moment of wistfulness, but one wishes the moments along the way had been better to really earn that ending.
Production companies: Archer Gray Productions, Maven Pictures
International sales: CAA, www.caa.com
Producers: Anne Carey, Amy Nauiokas, Luca Borghese, Trudie Styler, Celine Rattray
Executive producers: Charlotte Ubben, Shari Springer Berman, Pamela Hirsch
Screenplay: Shari Springer Berman, Robert Pulcini, based on the novel by Eleanor Henderson
Cinematography: Ben Kutchins
Editor: Robert Pulcini
Production designer: Stephen Beatrice
Music: Garth Stevenson
Main cast: Ethan Hawke, Asa Butterfield, Hailee Steinfeld, Emily Mortimer, Emile Hirsch, Julianne Nicholson