Dir: James Kent. UK. 2014. 129mins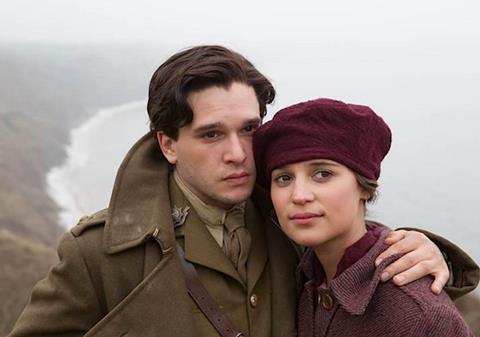 Honour and duty are sentiments writ large over Testament Of Youth, Vera Brittain's memoirs of the First World War. And they are forces strongly at play in James Kent's dignified film adaptation, released to coincide with the centenary of the outbreak of hostilities. Just as the BBC TV series introduced a new generation to Vera Brittain in 1979, so should this film - her spirit shines through it.
It's a sad, sad film about the tragic loss of a generation, but the thought of Brittain moving through the generations to deliver her message afresh is somehow a consolation in its final, rallying cry.
Brittain's loss – that of a generation of able young men – was devastating in life and on the page and loses none of its power onscreen, channeled through Alicia Vikander's central performance and a strong supporting cast in a well-judged, moving production.
Testament Of Youth should resonate strongly in the United Kingdom, where it will surely draw awards attention for Vikander, Kent (previously known for his TV work) and its craft team, in particular the work of the costume department. International exposure for this pedigree British production will depend on whether it can catch the imagination of audiences, particularly in the US. It's a heart-breaker.
Brittain wrote extensively about the war and her experiences as a nurse on the front, and much of her correspondence with her fiancé and brother survives (Testament Of Youth is the first volume of her memoirs). She was a modern, middle-class girl of her time who fought her way to Oxford, a feminist who became a pacifist after war destroyed her world and killed everyone she held dear. She is the mother of influential Liberal politician Shirley Williams, who gave her consent for this production (Britain's biographer Mark Bostridge was also actively involved).
It would seem, on the face of it, impossible to condense Brittain's book into a single film – Testament Of Youth is, simultaneously, a tribute to a lost generation, a manifesto of the struggle of the women of that era, and a powerful classic of war literature.
Writer Juliette Towhidi has approached the task (and its deadline, which undoubtedly loomed over the production) with courage and restraint. This is a respectful affair, with few jarring notes, although the chronology of some of Vera's nursing work has been altered, adding a little imbalance. Testament benefits greatly from Vikander's sympathetic, nuanced performance and a strong support cast, including an almost-unrecognisable Kit Harington and newcomer Taron Egerton, but also Emily Watson and Dominic West as Brittain's parents.
Testament Of Youth is, at 129 minutes, an ask. Audiences will know there is a price to pay for the first hour of cream teas, gilded youth, pink peonies and poetic dreaming. An untutored Vera wins her place at Somerville College, Oxford, where she will be taught by Miss Lorimer (Miranda Richardson). Her 18-year-old brother Edward (Egerton) and his friends Roland Leighton (Harington) and Victor (Colin Morgan, the former star of children's TV series Merlin) graduate from Uppingham and look forward to their bright, sunlit futures. Vera and Roland fall in love, but a newspaper headline declares: "Archduke shot: Austria in turmoil". Everyone is agreed, however, that war will be quick and over by Christmas. "Now that it's here, I have a dust and ashes feeling about it," says Roland.
When the blow does come, director James Kent has the wisdom to muffle it: he shows a steady hand in the face of the coming onslaught and a confidence in Vera's perspective, which he faithfully retains. He also displays some deft touches – her underwater dive back from Armistice Day in 1918 is an attractive device, for example. And the impact of the first deaths are cumulative, almost under-played. Vera and her friends were writers and dreamers in a generation which gave us the great war poets, and Towhidi and Kent work hard to retain their lyricism.
Vikander is strong, but so are her boys – Harington proves he has versatility here, and Egerton is fresh and sympathetic, while Colin Morgan is clearly a face to watch. Testament Of Youth is a further endorsement of British craft, from cinematographer Rob Hardy (Red Riding) to production designer Jon Henson (who worked with Kent and Heyday on BBC TV's The Thirteenth Tale), who move from Yorkshire to the field hospitals of France with a deceptive ease. Chief amongst them, however, is the extraordinary costume work of Consolata Boyle and her team – which goes beyond recreation to become an organic part of the piece.
Testament Of Youth pummels the viewer with the pain and futility of war. It's a sad, sad film about the tragic loss of a generation, but the thought of Brittain moving through the generations to deliver her message afresh is somehow a consolation in its final, rallying cry.
Production companies: BBC Films, Heyday Films, Screen Yorkshire, BFI
International sales: Protagonist, info@protagonistpictures.com
Producers: David Heyman, Rosie Alison
Screenplay: Juliette Towhidi
Cinematography: Rob Hardy
Production designer: Jon Henson
Music: Max Richter
Main cast: Alicia Vikander, Kit Harington, Taron Egerton, Colin Morgan, Dominic West, Emily Watson, Hayley Atwell, Anna Chancellor