Dir: Joe Carnahan. US. 2010. 119mins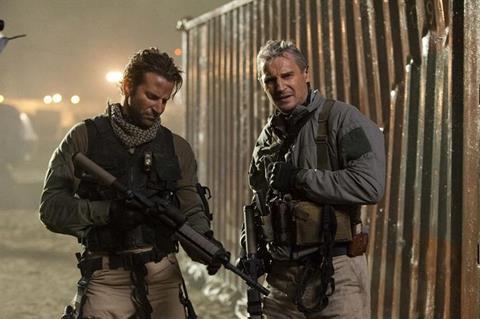 "Overkill is underrated," proclaims a character in The A-Team, which might as well serve as this stylish action film's motto, selling point and chief limitation. An unsubtle salute to high-octane set pieces and tough-guy attitude, director Joe Carnahan's adaptation of the popular 1980s TV series may be blindingly assaultive, but thanks to its muscular execution and some sturdy performances it's also fairly engaging throughout.
Ultimately what holds the film together is its cast, which, although uneven, gives this preposterous, hyper-violent story a winning likeability.
The A-Team will open this weekend in the US as well as in several international territories, hoping to establish a commercial beachhead before other action titles soon enter the marketplace, including Jonah Hex and Knight & Day. Fox is targeting different demographics in its casting, utilising Liam Neeson for older males, fighter Quinton "Rampage" Jackson for the younger mixed-martial-arts crowd, and heartthrob Bradley Cooper for women. And even if some audiences aren't familiar with the original television show, the movie's broad action appeal should be sufficient enticement.
A team of elite soldiers comprised of leader Hannibal (Neeson), Face (Cooper), B.A. Baracus (Jackson) and Murdock (Sharlto Copley) are wrongly accused of a superior officer's murder in Iraq. But once they're freed by a devious CIA operative (Patrick Wilson), this so-called A-Team plot to clear their names by finding the real killer.
Directed by Joe Carnahan, The A-Team has the same macho energy as his last film, Smokin' Aces, revelling in the exploits of hyper-masculine men who shoot guns and one-liners with the same cackling glee. (On the rare occasion when a woman appears on screen, she's usually just a love interest.) Based on a television show that ran for four years in the mid-'80s, The A-Team preserves the four central team members from the original programme, and indeed part of the enjoyment of this adaptation is seeing how the film's actors have fun providing their own interpretations to these simplistic characterisations.
This big-screen version also retains the show's delight in concocting elaborately-staged covert plans involving trickery and derring-do, which leads to several of the film's highlight moments. Walking a delicate balance between being knowingly ludicrous and genuinely gripping, The A-Team boasts absurdly over-the-top action sequences that have such a playful spirit that they feel invigorating rather than numbing, despite their kinetic onslaught.
Less successful, however, is Carnahan and his co-writers' attempt to jam character nuance, a love story and some vague political topicality into an already-overstuffed two-hour film. A subplot involving Face's ex-girlfriend (Jessica Biel), a military detective pursuing the escaped A-Team, leads to several clunky scenes of would-be romantic tension, while the storyline's allusions to the ongoing Middle Eastern conflict border on the exploitative.
Ultimately what holds the film together is its cast, which, although uneven, gives this preposterous, hyper-violent story a winning likeability. As the brash, cigar-chomping Hannibal, Neeson shows some of the grizzled swagger that George Peppard originally brought to the role, rarely overplaying the character's alpha-male extremism. A buffed-up Cooper has ample sex appeal and the right suave tone for the cocky playboy Face, while Copley (in his first major role since his breakout performance in District 9) convincingly portrays the mentally imbalanced Murdock. The team's weak link is Jackson, who fails to give Baracus much of a presence, particularly when the character eventually decides to renounce killing, a stance that doesn't serve him (or the film) too well.
Production companies: Dune Entertainment, Stephen J. Cannell Productions, Top Cow, Scott Free Productions
Worldwide distribution: Twentieth Century Fox
Executive producers: Ridley Scott, Marc Silvestri, Ross Fanger
Producers: Stephen J. Cannell, Spike Seldin, Tony Scott, Jules Daly, Alex Young, Iain Smith
Screenplay: Joe Carnahan, Brian Bloom, Skip Woods (based on the television series The A-Team created by Frank Lupo & Stephen J. Cannell)
Cinematography: Mauro Fiore
Production designer: Charles Wood
Editors: Roger Barton. Jim May
Music: Alan Silvestri
Main cast: Liam Neeson, Bradley Cooper, Jessica Biel, Quinton "Rampage" Jackson, Sharlto Copley, Patrick Wilson, Gerald McRaney, Henry Czerny, Yul Vazquez, Brian Bloom, Maury Sterling, Omari Hardwick