Dir: Marc Webb. US. 2014. 142mins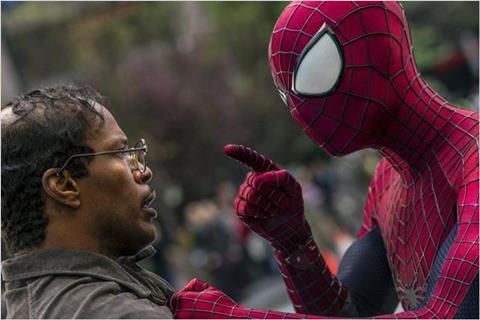 The sheer good-natured charm of the Spider-Man character and the delightful on-screen chemistry of Andrew Garfield and Emma Stone combine to make superhero sequel The Amazing Spider-Man 2 an enjoyable – if rather unwieldy at times – adventure romp. Its predecessor topped $750 million at the box office worldwide, and with a welcoming audience already primed to lap up some more web-slinging action this new addition to the re-booted franchise looks likely to be a healthy spring hit for Sony.
Andrew Garfield nails the blend of gawky charm and low-key sex appeal that defines Peter Parker and while he delivers the expected Spider-Man quips with skill somehow he is always more interesting as the man rather than the superhero.
British actor Andrew Garfield has slipped nimbly into the old Spidey suit, convincing as both troubled and tormented Peter Parker and as a genial wisecracking superhero. His chemistry with the ever-delightful Emma Stone – who sports an improbably stylish series of coats for a presumably impoverished intern – is the glue that holds the film together. The action, effects, angst and destruction (boy does New York suffer at the hands of Marvel super villains) may be the movie gloss, but their relationship carries the film.
The Amazing Spider-Man 2 opens in the UK on April 16 before rolling out through parts of Europe and other key international territories, and opening in the US in early May.
But while this lengthy (much too lengthy in truth) sequel delivers plenty to enjoy there is a niggling suspicion that it succeeds thanks to goodwill and the charm of its leads rather than a smart script and controlled sense of direction. The Spider-Man character has always been a favourite with comic-book fans simply because he is the angst-ridden, slight of frame, anti-hero who is beset with ordinary problems, and while some of those elements are still intact there is a whole lot of bluster and padding here.
In the not-so-distant era of the Tobey Maguire/Sam Raimi Spider-Man, the initial stab at the franchise came un-stuck with Spider-Man 3, which was over-laden with villains and lost the heart of the character. The Amazing Spider-Man 2 comes close to losing its way due to its overly-plotted baddies and the need for spectacular pyrotechnics, and while it recovers its momentum in the last third (and does a great job in setting up the next sequel) there is a rather unwieldy sense to its structure as characters slug it out for screen time.
In fact the film's opening – which tackles the back-story to Peter Parker/Spider-Man's parents - is a case in point. Campbell Scott and Embeth Davidtz (as the parents) in flashback get involved in one of those now rather familiar fights with a bad guy on board a private jet, resulting in an unnecessarily flashy action sequence that simply delays proceedings rather than letting the film leap straight into the web-slinging action.
Once we do get to see Spider-Man – the impressive POV web-swinging making the most of the 3-D – as he takes on a band of thuggish robbers before just making it to his graduation ceremony, there is the sense the film is at least heading in the right direction. Action scenes out of the way for a while, the film delightfully tackles the on-off relationship between Peter and Gwen Stacy (Stone)…she knows his identity, but he had promised her father to keep away from her to help protect her from danger. Fair enough – but the problem is that they are desperately (and rather sweetly) in love.
The will-they-won't-they nature of their romance is the spine of the film, but naturally enough love does not run smoothly and the film offers plenty of hiccups along their journey that serve to define Peter Parker's character and see Spider-Man grow as a hero.
First up is Jamie Foxx's Max Dillon, a Spidey fan with a comb-over and gap teeth who happens to be a worker in the electrical department at the Osborn Corporation (Oscorp) and who is transformed into Electro after an accident in his department sees him take a swim with some rather angry electric eels. An innocent who is driven mad, his newfound electrical powers push him face-to-face with Spider-Man in a spectacular effects sequence in Times Square.
The second sub-plot follows the arrival back in town of Peter's old pal Harry Osborn (the impressive Dane DeHaan) to inherit the Oscorp industrial empire from his father and face up to his family's genetic illness; an illness he comes to believe can only be cured by adding a soupcon of Spidey blood to his system. It comes as no surprise that this can't end well, and as fans of the comic books well know (as do those who saw the original trilogy) it sets the scene for the arrival of another super villain in the form of the Green Goblin.
Director Marc Webb is at his best when it comes to those moments inbetween the special effects, getting the best out of a large supporting cast, some of whom play their roles broader than others but who all offer much to the proceedings. Around the edges, Sally Field is excellent as Peter's ever-loving Aunt May; Colm Feore adds to his roster of smooth bad guy roles as a duplicitous Oscorp executive; Paul Giamatti has great fun in a telling cameo and the impressive Felicity Jones subtly makes an impact as Oscorp executive assistant Felicia Hardy and will hopefully crop up in the next film in the series.
Andrew Garfield nails the blend of gawky charm and low-key sex appeal that defines Peter Parker and while he delivers the expected Spider-Man quips with skill somehow he is always more interesting as the man rather than the superhero. His romance with Gwen Stacy is delightful, with Emma Stone the dream girl for any mild-mannered photojournalist/web-slinging hero, and their relationship is a dose of honest tenderness in amidst the grandstanding action.
Running well over two hours, while the film never feels annoyingly long there is a sense that the structure doesn't help its pacing. The fun and frothy first third gives way to a middle-section of worry, angst (and a few nicely staged comedy moments) before heading off to a dark final third that sees Peter/Spidey come of age. Set alongside current Marvel blockbuster Captain America: The Winter Soldier, there is no denying The Amazing Spider-Man 2 feels more old-fashioned with glimpses of old style comic book adaptations, and while its story may lack the sophistication and insight of Cap's new film, it does deliver fresh-faced and delightfully performed superhero action and adventure.
Production companies: Marvel Enterprises, Columbia Pictures
Distribution: Sony Pictures
Producers: Avi Arad, Matt Tolmach
Executive producers: E. Bennett Walsh, Stan Lee, Alex Kurtzman, Roberto Orci
Screenplay: Alex Kurtzman, Roberto Orci, Jeff Pinker, from a screen story by Alex Kurtzman, Roberto Orci, Jeff Pinker and James Vanderbilt, based on the comic book by Stan Lee & Steve Ditko
Cinematography: Dan Mindel
Editors: Elliot Graham, Pietro Scalia
Production designer: Mark Friedberg
Music: Hans Zimmer & The Magnificent Six, featuring Pharrell Williams and Johnny Marr
Website: www.theamazingspiderman.com
Main cast: Andrew Garfield, Emma Stone, Jamie Foxx, Dane DeHaan, Campbell Scott, Embeth Davidtz, Colm Feore, Felicity Jones, Sally Field, Denis Leary, Marton Csokas, Paul Giamatti