Last year in France, admissions were the highest for nearly three decades. But in a crowded marketplace, distributors are having to reach audiences faster than ever. Elisabeth Lequeret reports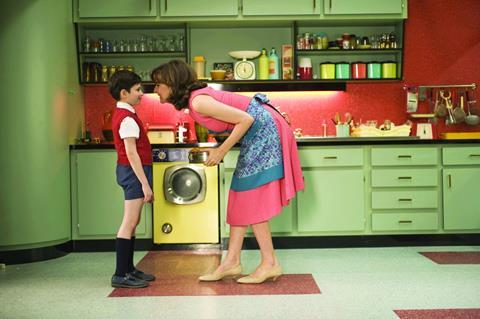 Believe it or not, French distribution is doing well. Really well. The number of tickets sold rose 5.7% to 200.9 million in 2009, the highest tally since 1982. This is due to hits including Ice Age: Dawn Of The Dinosaurs, Harry Potter And The Half-Blood Prince (pictured), Little Nicholas (Le Petit Nicolas) (pictured)and Avatar (see below for charts) as well as ongoing multiplex construction and cheap cinema passes from exhibitors such as UGC-MK2 and Gaumont-Pathé.
DVD sales were also slightly up in 2009. After a three-year slowdown, sales rose by 0.5% to $1.9bn last year. The modest growth is due to Blu-ray disc sales - which were up 110% to $151m and now account for 8% of the DVD market - and a change in legislation last year which allows DVDs to be launched four months after theatrical release. Previously a six-month window, this enabled summer blockbusters such as Ice Age 3, Harry Potter and Up to hit the shelves for Christmas.
"I bet that if you stop someone in the street, they wouldn't even know that 12-15 movies are released every week,"

Camille Trumer, StudioCanal
"The market in France has never been bad," says Camille Trumer, COO France of StudioCanal (pictured). "The crisis was due to the dramatic decrease of the price of DVDs. But if you look at the figures, you can see that people still want to buy DVDs."
Nevertheless, DVD sales are far behind the peak of the early 2000s - in 2004, there were sales of almost $2.8bn - and the figures fail to show the polarisation between high and lower budget films.
The theatrical sector is crowded in France and reaching consumers is tough. "I bet that if you stop someone in the street, they wouldn't even know that 12-15 movies are released every week," says Trumer.
The territory's ban on film advertising on TV means distributors are instead reliant on posters, trailers and the web. The web has become crucial and is now the second most popular media after posters. Internet advertising has exploded in France, with $211.7m spent on film advertising in 2008, compared with just $1.6m in 2003. It is also cheaper than other media - at $400,000 for a web campaign versus $1.4m for a poster campaign.
In 2007, as president of Paramount France, Trumer released the first 10 minutes of American Gangster (pictured) online. "We had 0.4 million to 0.5 million downloads, and it helped a lot to launch the film," Trumer says. "Showing extracts is definitely not like showing a trailer - people trust extracts, while they always feel somewhat that a trailer is marketing."
Distributors are also using the internet to build a community around films, including social-networking sites Facebook and Twitter. A few months ago, StudioCanal launched www.studiocanal.com which allows audiences to follow the life of the company's films, right from inception. Meanwhile, many internet platforms dedicated to cinema funding have been launched. Some - Touscoprod, Motionsponsor, PeopleForCinema - allow users to finance the distribution of a film and be part of its promotion, helping to build advance demand.
"The auteur films need time. They can't fight with US blockbusters or big French comedies."

Hengameh Panahi, Celluloid Dreams
PeopleForCinema, for example, last year raised $68,800 for Le Siffleur (pictured), a EuropaCorp production. "It could have grossed more," says Pierre-Ange Le Pogam, head of EuropaCorp, "but we wanted to stop the experience after we reached this figure. It was a test…The main interest of these websites is what they help create, a supportive community for the film."
"Every year in France, 670 films are released theatrically and most of them, especially the auteur films, are kicked out of theatres after one or two weeks," says Hengameh Panahi, head of Paris-based sales house and distributor Celluloid Dreams. "There is no more time for word of mouth, so you have to create buzz before."
For Panahi, a change in model is unavoidable. "The auteur films need time. They can't fight with US blockbusters or big French comedies. We should be able to do 'sur mesure' [day-and-date] for some films."
Last year, Panahi co-launched the VoD-website www.theauteurs.com, which claims 200,000 worldwide users. "A few weeks ago, a Portuguese distributor called me; he wants to release theatrically a film in Lisbon and Porto, and at the same time make it available on VoD in every other city of the country. That's geoblocking, something we can do very easily."
At the moment, French film body the CNC is working on new legislation to cover subscription video on demand (SVoD). The institution could authorise films to be released on SVoD 22 months after their theatrical release, instead of the current 36 months. Still, day-and-date release does not seem very likely to happen in France, where most of the films have TV co-producers.
How TV invests in film
In 2009, the main channels invested $174m via their cinema subsidiaries. In November, pay-TV giant Canal Plus announced a five-year finance deal, slightly boosting its investment in production, putting 12.5% of its annual revenues into European films and 10% into French films shot in France.
The public channels invested slightly more than usual. France 2 invested $47m, a $2.8m rise compared with 2008.
Private TF1 remained at the same level ($65.6m in 2009; $66.9m in 2008) but concentrated the money on fewer films: 14 in 2009 instead of 21 in 2008, with $6.6m invested in Luc Besson's new film The Extraordinary Adventures Of Adele Blanc-Sec. TF1 and M6 focus mostly on comedies, while the French-German Arte mostly picks up auteur films and is the only public broadcaster to invest in documentaries.